Invisible calamity: drought leaves 16 crore kids vulnerable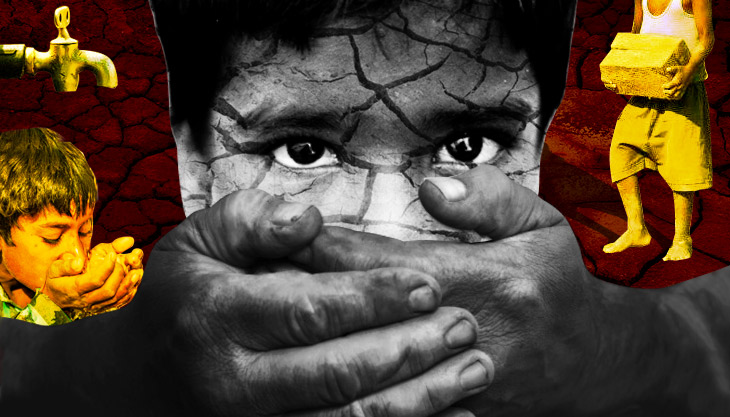 As the world celebrated Labour Day on 1 May, in Lingampally village deep inside the forests of Telangana's Adilabad district, Madhu, 12, and Ashok, 8, died of thirst. That day, the Bachpan Bachao Andolan reports, their mother Lakshmi had gone door to door with a plastic container, begging for water. Nobody had any, so she went to look for some in the nearby forest. By evening, she had fainted, clutching her plastic container. Back at home, her children died, waiting.
A few days ago, Sowbhagya, 9, of Latur, Maharashtra, was given away by her family to Devdasis so she may live and not die of thirst. It's better than selling her into slavery, her parents told the BPA. Some families fleeing the drought in Karnataka and Telangana have reportedly left their children in temples, hoping they may somehow survive on their own.
"Owing to this drought and the ongoing water crisis, children are becoming increasingly vulnerable. Reports of children being forced into child labour, trafficking, child marriage and the Devdasi system are coming to light, with children increasingly dropping out of school, discontinuation of midday meals and largescale migration due to this crisis," BPA founder Kailash Satyarthi read to a packed hall in Delhi's Constitution Club Tuesday. The Nobel laureate was reading from a letter he has written to Prime Minister Narendra Modi, requesting a child-centric action plan in drought-hit areas.
"In Telangana, Karnataka, Maharashtra and other drought-hit areas, child labour has risen by 24% and school dropout rates have increased by 22%," Satyarthi said, pointing out the grim situation that is going unnoticed.
As many as 33 crore people across 253 districts are affected by the drought. This includes 16.38 crore children, or 40% of all children in India.
Satyarthi's figures are derived from calculations based on the 2011 census and the numbers disclosed to the Parliament by the home ministry in March this year.
Although a field survey of children in drought-hit areas would be a more accurate method of estimating the scale of the problem, such an exercise could take months. The crisis, and the response to it, can't wait that long.
So, to address the crisis more urgently and effectively, Satyarthi has made three demands to the prime minister:
Declare drought as a national emergency.
Ensure that no child in a drought-hit area is forced into bonded labour, child labour, child marriage, or is compelled to leave school.
Ensure that unspent corporate social responsibility funds, especially in public sector companies, are immediately directed towards child-centric drought relief measures.
"I can only hope that the prime minister listens to the mann ki baat of these thirsty children," Satyarthi concluded.