No interview for jobs. Great. But where are the jobs Mr. Modi?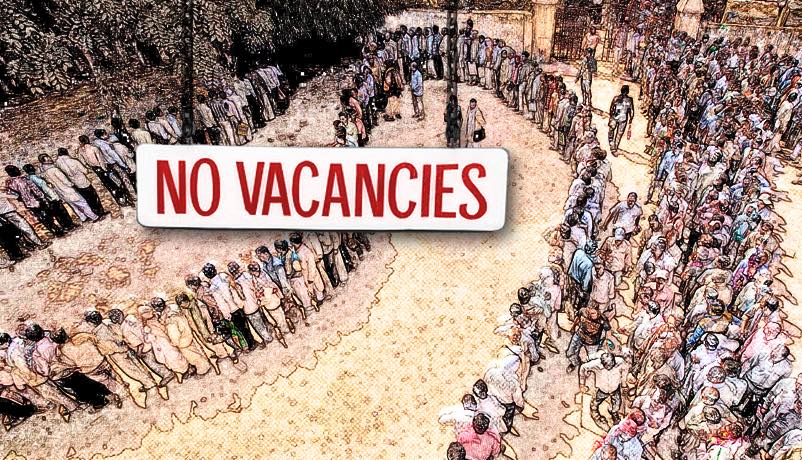 Big reform
Modi has promised to scrap interviews for non-gazetted jobs
The move will come into effect from 1 January 2016
The idea is to ensure that jobs are given on merit, not sifarish
Reality check
Modi had promised to create 10 million jobs
Last year\'s figure is 5.21 lakh jobs; UPA had created 6.76 lakh
Foreign investment hasn\'t created jobs, MNCs may be cutting jobs
When he became BJP's prime ministerial candidate in 2013, Narendra Modi promised to create 10 million jobs if he came to power. Now, as PM, he is telling Bihar's voters that from 1 January 2016, there will be no interviews for non-gazetted government jobs.
The logic apparently is to ensure that jobs are given on merit, not for sifarish.
That would be all fine, Mr PM, but where are the jobs?
Available data suggests that under Modi so far, job creation has been lower than under the UPA.
The opposition has already gone to town to "expose this government" on the issue.
In a statement last week, the Congress said, "The nation gave Narendra Modi a clear majority and expected him to deliver on his promise of generating one crore jobs a year, but fewer jobs were created under the Modi government."
The statement elaborated, "Data put out by the labour ministry indicates that 5.21 lakh jobs were created in the eight manpower intensive sectors in the first year of the Modi government as against the UPA's average of 6.76 lakh jobs a year."
The pain is being felt on the ground. Subhash Kumar of Vaishali, Bihar complains, "I have done my graduation. I am now waiting for vacancies to open up. There are no jobs, no forms at bookstalls, no openings anywhere."
In 2014-15, India got $75 billion net foreign investment, but $40 billion went into the share market
"I cant afford to go to a big city and look for jobs. I thought after I do my graduation, I would get a government job. That would secure my family's future. That's why my parents had sent me to college and invested in my education."
Remind Subhash that all parties are promising Bihar jobs this campaign season, and he explodes, "BJP wale pichle saal aaye aur kaha ki Modiji lakhon naukri denge. Humko kaha ki kaam milega. Ab saal bhar se jyada ho gaya. Phir se wahi wada kar rahe hein. Kitni baar wada karke vote lenge?"
The gist: how long are they going to repeat the same promise of providing us jobs?
Subhash's pain is shared many jobless youth in the country. To them, Modi's promise of interview-less jobs is like a free pass to an empty buffet.
Nearly 12 million Indians join the workforce every year. So, creating 10 million jobs can't just be an election promise to be milked endlessly. The country just can't afford it.
The Modi government has said investment by the private sector will generate bulk opportunities for the jobless. Modi has travelled to 25 odd nations in his 17 months as PM, apparently to bring foreign investment that would create jobs. The promise though hasn't translated into opportunity on the ground, so far at least.
Financial inflow from abroad has indeed improved over the past year but, as per reports by some economists, the bulk of it is going into the share market and not productive capacities.
In 2014-15, India got over $75 billion net foreign investment, of which $40 billion, or more than half, was invested in the share market. In the previous year in comparison, only 22 % foreign investment went into the share market.
Bihar voter Subhash Kumar: How long are they going to repeat the same promise of providing jobs?
If that wasn't enough, the government is emphasising a new term to gobble up possible - MTS, or multi tasking staff. From the gym trainer in Kirori Mal College, Delhi, to library and laboratory staff, contractual recruitment and MTS is the new mantra.
The fall in exports has created further panic among workers. Big companies such as Vedanta, Wipro and Tata have hinted at job cuts over the past few months. The private sector, as a whole, has fewer openings as of now. In the countryside, job creation schemes like MNREGA are reeling from budget cuts.
Take all these factors together and it's not hard to see why Modi has failed to keep the '10 million jobs' promise.
And when there aren't enough jobs, how does it matters if candidates are interviewed or not?