Indian citizenship regained: The 22-year ordeal of Luingam Luithui for justice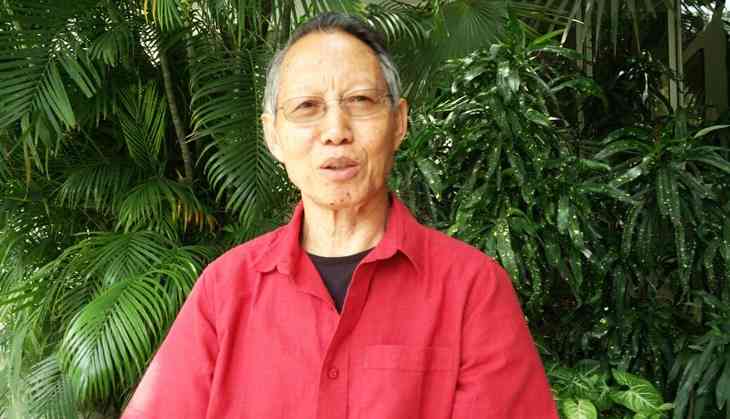 (Bharat Bhushan/Catch News)
India failed Luingam Luithui, a Naga human rights advocate, by illegally revoking his citizenship 22 years ago. He fought back and won.
Luithui and his wife, Peingamla, were forced to become refugees, seek the protection of the United Nations High Commissioner for Refugees (UNHCR) and eventually seek Canadian Citizenship.
However, Luithui considered the snatching away of his citizenship unconstitutional, illegal and abuse of the power vested in the Indian State. He decided to challenge it in the courts.
The Delhi High Court has finally restored the Indian citizenship of both Luithui and his wife, declaring that they had never ceased to be Indian citizens.
The court has ruled that it was because of certain unconstitutional acts of the Indian government that Luingam Luithui and his wife were forced to take Canadian citizenship; and that they remained Indian citizens throughout this period as they never gave up their citizenship voluntarily.
The order was pronounced by a two-member Bench comprising Acting Chief Justice of Delhi High Court Justice Geeta Mittal and Justice Hari Shankar.
"To me this is not so much about being an Indian or not being an Indian. It is to reaffirm my origin and to reclaim the space that I should have as a free man," says the beaming Naga human rights leader unable to contain his happiness with the high court's order.
Luingam Luithui, one of the founder members of the Naga Peoples' Movement for Human Rights (NPMHR) was born on March 1, 1951 in Langdang village of Ukhrul district in Manipur. His wife, Peingamla, 19 years his younger, was also born in Ukhrul. They were married in 1988.
Luithui, who studied International Relations at Delhi's prestigious Jawaharlal Nehru University, was involved in anti-Emergency agitations along with other activists of mainland India. While Emergency brought home to many Indians how the Indian State could commit serious human rights violations against its own citizens, Luithui used the experience to address the situation in the Naga areas where the Army reigned supreme over civilian authorities because of a raging insurgency.
This led to Luithui and some of his friends setting up the first human rights organisation in northeast India in September 1978 – the Naga Peoples' Movement for Human Rights (NPMHR).
Luithui, through the NPMHR, approached the courts to check the army atrocities in the Naga areas. Thus, for example, NPMHR vs. Union of India challenged the constitutionality of the Armed Forces Special Powers Act and led to a Constitutional Bench of the Supreme Court enunciating clear guidelines the Army to adhere to while carrying out operations in disturbed areas.
Another case – Sebastian Hongray vs. Union of India – led to the Supreme Court delivering a landmark judgment – making the "sovereign" act of the Army justiciable and awarding compensation for excesses committed by the Army.
Yet another instance was in 1987 when Indian security forces sealed off Naga villages in the Oinam area of Manipur and razed 31 villages to the ground in what was called 'Operation Bluebird'. Luithui and his colleagues documented the atrocities committed and took the Army to the Guwahati High Court. Although the hearing was completed in the case in 1992, the court in its wisdom, without giving any reasons, has kept the judgment pending till today.
His human rights activism brought him on the Indian government's radar.
"I knew that they (Government of India) were after us. I was unable to stay at home in Ukhrul because of this. I moved to Bangkok as I was setting up an indigenous peoples' organisation in Asia," Luithui recalls.
He helped set up the Asia Indigenous Peoples Pact (AIPP) and was elected its first secretary-general. Today the AIPP holds a consultative status with the UN's Economic and Social Council. He also founded the International Alliance of the Indigenous and Tribal Peoples of the Tropical Forests and was an active member of the UN Working Group on Indigenous Populations, worked with the Unrepresented Nations' Peoples' Organisation (UNPO) and was invited to speak on behalf of Asia at the UN Conference on Human Rights in Vienna in June 1993.
The Indian State misunderstood and misconstrued his activism. "The newspapers reported that I was creating a second front for the National Socialist Council of Nagaland (NSCN). This was simply not true. In fact, our aim was to end the militarisation of our land and we believed that a ceasefire was the only way out. In fact, I refused to meet NSCN leaders for a long time despite several invitations from them. Finally I met them only in 1992 to urge them to go for a ceasefire," he recalls.
Meanwhile, Luithui's family members were threatened, beaten up and harassed. His elder brother was tortured by Assam Rifles for protesting against sexual assault of women by the armed forces and suffered debilitating internal injuries. His wife's passport was stolen in July 1994 while in Bangkok (Luithui was at that time running the AIPP Office there). She was denied a duplicate passport despite her application, a police complaint, and the processing fee for the passport being accepted by the Indian Embassy in Bangkok.
Even while Luithui challenged the refusal of a passport to his wife in Delhi High Court, he began his efforts to persuade the leaders of the NSCN (Isak-Muivah) to negotiate a ceasefire agreement with the Government of India.
Once it was clear that New Delhi was interested in a ceasefire with the Naga insurgents, Luithui worked closely with Lt Gen KM Seth, then the Corps Commander at Dimapur, and the NSCN (IM) leaders to facilitate the process. This resulted in the Naga insurgent leaders holding a secret meeting with the then Prime Minister PV Narasimha Rao in Paris in the autumn of 1995 and a formal declaration of ceasefire in 1997.
The effort to bring the Nagas to the negotiating table was going on even while his wife had been denied a new passport and a meeting of AIPP in Chiang Mai raided by the Thai police.
"The Government of India thought that through the AIPP I was setting up a consortium of North-eastern rebels. This was followed by a police raid at my office-cum-residence in Bangkok. When the Thai police found nothing incriminating, they apologised and told our curious neighbours that this was being done on the request of a foreign country," he laughs.
Meanwhile, Luithui's passport also needed extra leaves and renewal. He applied for extra leaves to be added to his passport while attending a conference at the Hague in December 1995. He was informally told that his passport had already been impounded by the government in August 1995.
On his return to Bangkok, both Luithui and his wife were advised to apply for protection to the UN High Commissioner for Refugees. Subsequently both of them were "recognised as persons of concern" under the mandate of the UNHCR and were relocated to Canada.
In essence, Luithui and his wife had been illegally exiled by the Government of India by impounding their passports without giving any justification or due notice to them. Not wanting to give up his Indian citizenship, once in Canada, Luithui applied for a new passport as the old one's validity was about to expire. The Indian High Commission in Ottawa instead seized his passport – leaving both Luithui and his wife in a situation of statelessness.
For years thereafter, the couple made several unsuccessful attempts to get their Indian passports and return home to India. Finally, after the 9/11 attacks in the United States, they were advised that for their own security they should have some citizenship or the other. They were compelled to apply for Canadian citizenship, which they were granted.
They were allowed to visit India on tourist visa for family illness under court orders and finally to pursue their case for regaining their citizenship. To make ends meet, he and his wife had to do hard manual work in Canada's oil fields even as he pursued his legal case in India.
What helped was that Luithui and his family members started using the Right to Information Act to compel the government to reveal the reasons for impounding their passports. Up to now the government has not produced the original order or a "Look Out circular (LOC)" that the RTI revealed it had issued against Luithui in 1996 – two months after impounding his passport.
What the RTI, however, revealed was that the then Union Home Minister P Chidambaram had withdrawn the LOC against Luithui on the recommendation of the then Home Secretary GK Pillai. In his recommendation of February 1, 2011, Pillai had noted that Luithui was "not a member of any armed group, but only an activist."
Despite an assurance that the Indian government would have no objection to Luingam Luithui returning to India, both he and his wife continued to be denied visas.
Left with no choice, Luithui, his wife, their family members and clan members as well as their local pastor filed a petition in Delhi High Court challenging the unconstitutional acts, omissions and abuse of the legal process by the government. The petition demanded full restoration of their civil rights, including the right of permanent residence in India as citizens of India by birth.
The Delhi High Court has done just that – giving a tight slap to the Government of India for its fraud and deception against two of its own citizens and terminating their citizenship.
A visibly satisfied Luithui says, "I think being Indian or not being an Indian is a question taken too far. For me what is more important is to be able to realize the potential that you and I should have to start building a society that we should have and we deserve. I can't do this myself but I need the legitimate space to work with others in my society to do that." This is what, he hopes, the restoration of his Indian citizenship will enable.
Edited by Joyjeet Das