India Tales: Meet the 72-year-old farmer who has a trunkful of medals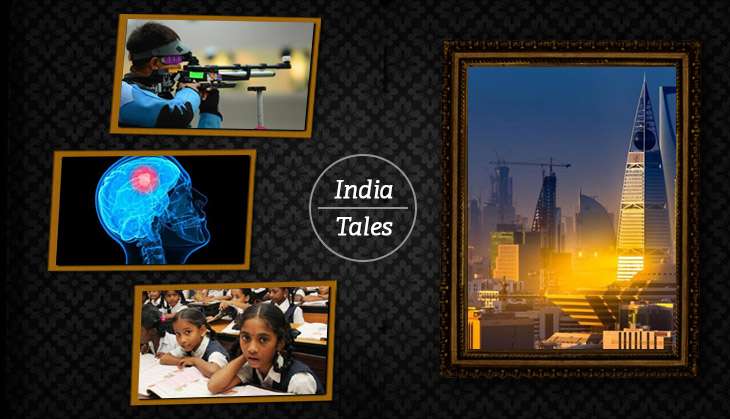 01
Unsung hero: meet the 72-year-old farmer who has a trunkful of medals
In Kohra village of Jaisalmer, Rajasthan, lives an unsung hero. - a sportsman who barely missed being an Olympian.
Chattarsingh Rathore, 72, was an ace shooter and won 42 medals at national and international events in a career spanning over two decades. Yet, even his neighbours do not know about his achievements.
Rathore, an illiterate, joined the BSF in 1966 soon after it was raised. Until then, he had never even touched a weapon, let alone shoot one. But at the BSF's training school in Indore, he quickly become the best shooter in his batch. Recognising his talent, the BSF sent him for advanced training. He became an expert marksman with 22-bore and full bore rifles.
Two years later, he got an opportunity to compete in a shooting event held by the National Rifle Association. There was no looking back after that. In 1971, he won the national shooting championships in two categories - 22 rifle at 75 meters and full bore rifle at 300 meters. By 1984, Rathore had won 42 medals in national and international competitions. In the interim, he barely missed qualifying for the 1980 Moscow Olympics.
Rathore retired from the BSF as a constable in 1995 and returned to start a new life as a farmer. He put his medals and certificates in an old trunk and "forgot" about them.
02
Breakthrough? Researchers identify gene linked to deadly brain tumour
In a potentially major medical breakthrough, a team of researchers from the Indian Institute of Science, NIMHANS and Sri Satya Sai Institute of Higher Medical Science claimed to have discovered the gene that "aggravates" the deadliest brain tumour called glioblastoma multiforme, or GBM.
They found that "by activating certain proteins in the gene, the cancer cells in GBM can be stopped from spreading". "GBM becomes dangerous because of the layer of fribromodulin, or FMOD, becomes thin. We can now use FMOD as a weapon to destroy GBM although more research is needed to be done on FMOD," said Dr Kumarwale Somsundaram, who led the research team.
GBM is so deadly that even when it's removed, the patient survives for no more than two-three years. This is because "despite surgery, radiation and chemotherapy, the cancer cells are not completely destroyed" and after a while they "start affecting the healthy tissues nearby", said B Mandal, who was part of the research team.
03
How 50 workers from Rajasthan ended up stranded in Saudi Arabia
A group of 50 young men from Shekawati region in Rajasthan had travelled to Riyadh, Saudi Arabia, hoping to earn a decent living. They wouldn't have imagined what was to befall them.
The company the 50 men worked for suddenly closed down three weeks ago, leaving them stranded in Riyadh. "The company left them to their own fates, and they don't have money to buy tickets. They are living there waiting for a miracle to happen," said the brother of one of them.
One of the stranded men Vinod Jangid of Mandava said over the phone from Riyadh that they were employed by Suhem Project Company. "Three weeks ago, we came to know that the company had closed down and the person who ran it had fled," Vinod said. "We have run out of ration and have no money to return to India. The company has not paid our salaries for three months."
04
Moved by plight of friend's children, this man started a social revolution
In Bhinmal town of Jalore district, Rajasthan, Indira Public School stands as a monument to public school. It's run by Baggaram Meghwal "for those who have nobody to support them".
In the past 15 years, the school has taught dozens of orphan children who did not have anybody to pay their fees. Currently, 20 such children are studying at the school. The school not only teaches the children free, it also takes care of their books and uniform.
Baggaram started this initiative in 1995-96. His friend had died in a road accident and his relatives said they would not be able to educate his three sons and a daughter. "So, I admitted them in my school and let them study until the tenth standard free of charge. Afterwards, this became a tradition. Some of the girls and boys who have passed out of this school have gone on to do BA and MA," Baggaram said.
In recognition of his contribution to the society, the people in his colony proposed his candidature for the local municipality and elected him as a councillor in November 2014. "He is a selfless and honest person and we though he will help develop our colony. That's why we elected him," said a resident.