In the name of love: what drove 4,168 Indians to death last year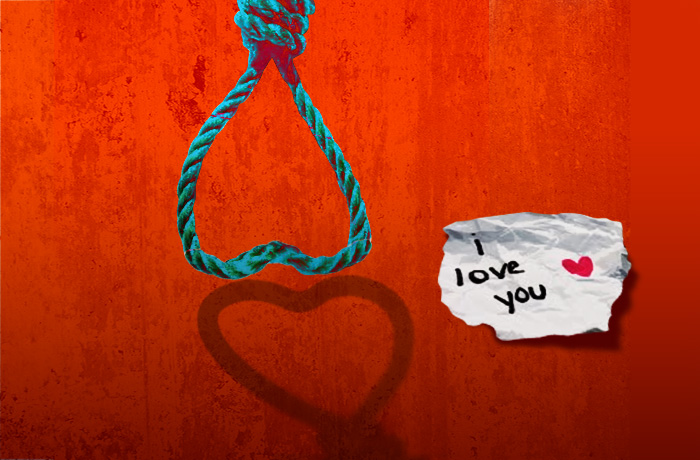 It's not hard to see why being in love in India is no easy thing. Consider the restrictions on courtship in public places, the moral policing of young couples, the stigma around relationships before marriage and outside one's caste or community. Consider the stories of parents crying rape and kidnapping against the 'unsuitable' boys their daughters elope with. Consider the number of inter-community relationships that end in honour killings.
The social realities that govern relationships in India often feed into a sense of failure, disappointment, disruption, estrangement - and push vulnerable people to suicide. Alarmingly so.
Dying for love
In 2014 alone, the NCRB attributed 4,168 suicides to 'Love Affairs', or 3.2% of all suicides in India. Fewer people, 3,647, died due to 'Drug Abuse/Addiction'.
The NCRB report does not explain precisely why love affairs are driving people to suicide, it does, however, tell us where this is happening most and among whom.
Did 244 people really commit suicide after Jayalalithaa was jailed? NCRB's total figure for the state: 23
NCRB data from the past few years shows that most suicides due to love affairs are by young people, aged 15-29. Last year too, the combined age groups of 14-18 and 18-30 accounted for the vast majority of such suicides.
City of despair
City dwellers are taking their lives for love at higher rates than the country as a whole. Such suicides, as a percentage of all city suicides, is higher than the national average of 3.2%. Among cities, Delhi witnessed most love-attributed suicides (63) in 2014, followed by Bangalore and Chennai (54 each), Bhopal (48) and Mumbai (46).
Men seem more lovesick than women, having a significantly higher rate of suicides, except in West Bengal and Odisha where the trend was reversed last year.
The curious case of Meerut
In Meerut, a whopping 46.8% of all suicides in 2013 and 32.4% the year before were attributed to love, the highest of any city. The numbers mirror Meerut's notoriety for 'moral policing' of young men and women. Curiously, if positively, though, Meerut reported no such suicides in 2014.
Lovesick Assam
Among states, Assam leads. It saw 519 love-attributed suicides, followed by Tamil Nadu (506), West Bengal (445) and Karnataka (424). The Northeastern state, in fact, has now topped the list for three consecutive years - 650 deaths in 2013 and 494 in 2012. As a share of all suicides in the state, suicides for love have accounted for 14.6%, 18.3% and 15.1%, respectively, from 2012 to 2014.
Set against the rest of the Northeast, these numbers are even more striking. Other states in the region have consistently shown few suicides, love-related or otherwise. The exception was Tripura in 2013, reporting 20 men and as many women committing suicide because of love affairs.
Harsh Tamil Nadu, Maharashtra
Tamil Nadu, West Bengal and Maharashtra regularly figure among the top five states in terms of gross numbers of love-attributed suicides. Not surprising, given these states, along with Karnataka and the united Andhra Pradesh, have shown high numbers of suicides year after year.
Hostility to lovers is so apparent in Tamil Nadu that a Chennai resident has set up a political party to safeguard their interests. B Kumar Sri Sri, the founder of the Indian Lovers Party, contested, unsuccessfully, the 2014 Lok Sabha election from South Chennai promising legal protection to lovers from moral policing as well as action on honour killings.
The best places for lovers: Srinagar and Nagaland. Neither have seen a love-related suicide in three years
His party also promised housing, jobs and free education for children born out of love marriages.
The best places for lovers appear to be Srinagar and Nagaland. Neither have had even a single love-related suicide in the past three years.
Dying for a cause
From love on to a different kind of fervour.
It's interesting that suicides due to ideology and hero worship are clubbed together. This suggests devotion to a cause may go hand in hand with devotion to a hero figure.
Also interesting is the choice to refer to 'ideology' in a country where so much is motivated by religion. Religion is not listed as one of the causes of suicide, and it is unclear whether 'ideological causes' include religious motivation. How the numbers might change if religion, or even political affiliation, was explicitly included is anybody's guess.
Suicides attributed to ideology and hero-worship in 2014 numbered 56, down from 221 in 2013. The number was 176 in 2012, 41 in 2011 and 102 in 2010.
Here too, the data shows more men than women committing suicide. What's interesting is the geographic distribution.
Behind the screen
While nearly all other states reflect zeroes and ones against suicides due to 'Ideological Causes/Hero Worshipping' in NCRB's report for 2014, two states stand out. Maharashtra shows 19 such suicides and Tamil Nadu 23.
It's tempting to correspond the high figures with the twinned cultures of cinema and politics in Mumbai and Chennai. But a closer look at the data defeats this theory: only six of the 56 suicides occurred in cities, of which only two were in Chennai and one in Mumbai.
Further, while Maharashtra and Tamil Nadu recorded fairly high numbers in 2013 as well, the top three states that year were Haryana, Chhattisgarh and Gujarat with 77, 38 and 34 suicides, respectively. In 2012, Haryana had 90 suicides motivated by ideology and hero worship; Maharashtra and Tamil Nadu had two and six, respectively.
Frenzy of devotion
Nevertheless, it is possible to observe a culture of fanaticism at work in the political sphere, particularly in Tamil Nadu around the figure of Chief Minister J Jayalalithaa. When she was convicted and imprisoned in a disproportionate assets case last September, there were reports of people hanging themselves, self-immolating, jumping in front of buses and simply dropping dead in shock. The number of suicides reported was 16. This squares off with NCRB's figure of 23 for last year.
It does not, however, account for the 244 people who allegedly committed suicide after the sentencing, whose families Jayalaithaa's AIADMK claims to have compensated to the tune of Rs 7.23 crore.
Assam leads in love-attributed suicides with 519. Tamil Nadu had 506, West Bengal 445, Karnataka 424
Jayalalithaa is hardly the first politician to inspire her followers to martyrdom; she is part of a tradition. When her mentor, filmstar-turned-politician M G Ramachandran was shot in 1987, at least 31 followers are said to have committed suicide in despair.
More recently, when the chief minister of Andhra Pradesh Y S Rajasekhara Reddy died unexpectedly in a helicopter crash in 2009, over 100 people were reported to have died of shock or killed themselves.
Reliably, the NCRB report for that year shows a high number of ideological suicides in Andhra Pradesh - 92.
Death foretold
According to Anant Maringanti, director of Hyderabad Urban Lab, a multidisciplinary research initiative, the rise in the number of suicides seemingly in service of a 'greater cause' can be contextualised in two ways.
First, media narratives, particularly the TV, sensationalise such suicides and create a morbid atmosphere. Second, suicide for a cause are valourised in many folk oral traditions as a heroic act.
"In Telangana, the term Viragadha is a oral tradition where legends of martyrs are narrated with passion. All this creates a context where it is easy for an individual to allow all sorts of aspirations congeal around one particular symbol," Maringanti said.
"For young people, this translates into a simple framework: you become a hero if you die for Telangana statehood; Telangana statehood itself will solve all problems. Once such ideas are consolidated, suicide begins to appear as the only honourable course of action to many people."
It also becomes difficult to isolate any other reason for suicide from such heightened passion.
"The reason for suicide is established either through the person's own statement through a suicide note or through the family's representations or local politicians' claims after the death," Maringanti said. "In heightened political moments, it is impossible to search for any explanations beyond these representations and claims. Suicide itself becomes a political act or at the very least, the basis of and justification for political action."