How much should Delhiites actually pay for parking?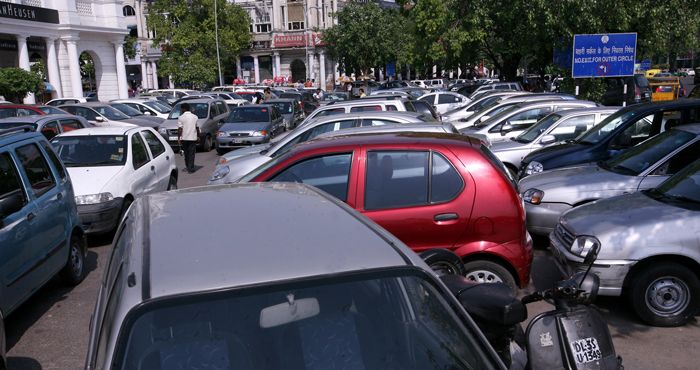 The mess
Shortage of parking space is a menace in Delhi. Parking squabbles are extremely common.
Pedestrian pathways and public spaces end up getting crammed with vehicles.
There is a need to provide a workable solution towards increase parking spaces.
Mindsets also need to change. Buying a car doesn\'t give anyone the right to grab parking space.
The formula
Parking charges should be linked to the circle rates in the area and the size of the vehicle.
Buying parking space for a small car in Circle A will be about Rs 44 lakhs. In Circle H it would be Rs 1.4 lakhs.
A conservative estimate for per hour parking charge is Rs 25 per car.
The revenue raised can be used to create new parking infrastructure in Delhi.
The tragedy of Delhi, or for that matter any other metropolitan city of India is that the addition of any parking infrastructure intended to smoothen traffic flow ends up being used for every purpose other than the one for which it was created.
Pedestrian pathways are crammed with parked vehicles, public spaces outside the boundary walls of private houses are claimed for the parking of house-owners' cars, left lanes of all roads are blocked from moving traffic by parked vehicles, and to top it all, on specific days of the week, whole roads in some areas are blocked to hold bazars or festivities (weddings, whole night jagratas etc.).
The tremors from this chaotic situation erupt in parking squabbles that often end in broken limbs, smashed vehicles or even loss of life. Physical assaults capture media attention momentarily, but the underlying reasons are not thoughtfully analysed to provide a workable solution towards planning parking spaces.
So the question arises: are there any rational, long-lasting parking solutions for Indian cities that are bursting from indigestion caused by over-intake of vehicles?
There is a solution, but it requires serious reflection by the administration. And the stomach to implement it. If implemented, the solution, besides being novel, will bring civility, increase in traffic flow speed, reduce pollution, create employment and generate enough finances to further streamline the city's infrastructure.
Of course it goes without saying that the mindset of the citizens needs to evolve to differentiate between public and private spaces. Just buying a car is not an entitlement for claiming parking space outside ones house.
If public spaces (pavements, roads, parks, side roads) continue to be available for free parking, then these spaces will be inaccessible to pedestrians, walkers, playing children, emergency traffic: the very ones for whom they were intended.
Parking charges need to be rationalised
The first and foremost requirement is that the concerned authorities should order that all public space is 'public', i.e. even if it is adjacent to the perimeter of a private property; any parking on this space must be charged on an hourly basis, be it a visitor or a neighbour, or the house owner himself/herself.
Second, the quantum of charges must be realistically based on land cost. This rational policy is the only way the government can deter the mindless purchasing of cars that are then parked more than 90% of the time on public space, at no cost to the car owner.
Current estimates indicate that in excess of 40-50% of the city's cars are parked in residential areas most of the time. They are occupying public space and not paying for it; in other words the government is subsidising the occupation of public space by individual or commercial car owners. Where does the funding for this subsidy come from?
Citizens who do not own cars or those who park inside designated parking spaces are equal shareholders of public spaces. But they are excluded from their share, indirectly paying for 'free' parking space for encroaching parked cars.
When evolving a rational parking policy the charges for parking must reflect local economics. They should be commensurate with the government declared circle rates for procuring land in different part of Delhi and the minimum surface area that a car requires for parking.
A small car, SUV or bus require about six, nine and 30 square metres to park. The capital cost of land would vary depending on the footprint of a vehicle and the circle rate of the area where it is parked.
Buying a parking space for a small car in circle A the capital cost will be Rs 7.74 lakh/sq m x 6 sq m = about Rs 44 lakh/small-car (70 lakh/SUV and 2.32 crore/bus). In circle H the capital cost would be Rs 1.4 lakh/small-car, 2lakh/SUV and 7 lakh/bus.
Parking revenue
For simplicity if we assume that all cars are in the small-car category, and conservatively estimate that 30% of total cars (about 9 lakh) are parked on public land per day, then the total public land occupied by small cars will be 5.4 sq km. The capital cost for this space at an average circle rate (A-H) for all of Delhi, i.e 4 lakh/square meter, will be Rs 2.16 lakh crore.
Long-term annual interest on this capital will amount to Rs 21,900 crore or Rs 60 crore per day; per hour parking charge/small-car will be about Rs 25/hour.
Parking charges must be commensurate with circle rates in the area and minimum surface area that a car requires
Interestingly, an annual interest of Rs 21,900 crore is more than the 50% of the Delhi's annual budget allocated for the year 2013-14. This staggering figure is the subsidy given to car owners annually.
Imagine, even if 25% of parking charges collected through the implementation of this policy provides for the creation of new and aesthetic parking infrastructure, then all the large cities in India would be less hostile and traffic will move more efficiently.
It is for no reason that in all developed countries, if you own a car you have to pay for its parking directly or indirectly.
The conservative estimate for per hour parking charge of Rs 25/car will generate enough resources to streamline parking chaos; will allow the formation of a parking specific work force of thousands - an enterprise similar to metro services; will ensure increase in traffic flow speed; will reduce pollution and most of all eliminate the frequent incidence of broken bones and gunshot wounds.
After all, buying an air-conditioner does not entitle one to get a free home from the government to install it; so buying a car should not entitle one to a free parking space.
It is time that the authorities evolved rational and realistic per-hour parking charges for cities and regulated the system as a sustainable public service that pays for itself.