How Indira Nehru and Feroze 'Ghandy' became Indira and Feroze 'Gandhi'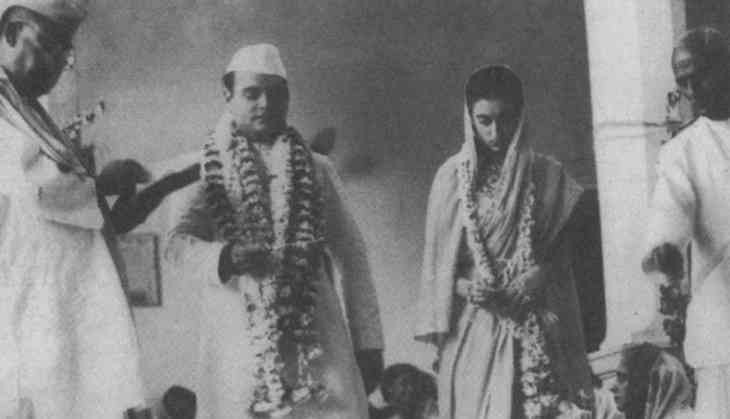 Feroze Gandhi was born Feroze Jehangir Ghandy and Indira Gandhi was born as Indira Nehru. Feroze was born to a parsi family at the Tehmulji Nariman Hospital situated in Fort, Bombay. Being inspired by Mahatma Gandhi, Feroze changed the spelling of his surname from "Ghandy" to "Gandhi" after joining the independent movement.
Indira Gandhi was born as Indira Nehru in a Kashmiri Pandit family on 19 November 1917 in Allahabad. Her father, Jawaharlal Nehru, was a leading figure in India's political struggle for independence from British rule, and became the first Prime Minister of the Dominion (and later Republic) of India. She was the only child (a younger brother was born, but died young), and grew up with her mother, Kamala Nehru, at the Anand Bhavan; a large family estate in Allahabad.
Indira was personal assistant and hostess of Jawaharlal Nehru during his tenure from 1947 to 1964.
During her stay in Great Britain, Indira frequently met her future husband Feroze Gandhi, whom she knew from Allahabad, and who was studying at the London School of Economics. The marriage took place in Allahabad according to Adi Dharm rituals though Feroze belonged to a Zoroastrian Parsi family of Gujarat.
Feroze first proposed to Indira in 1933, but she and her mother rejected it, putting forward that she was too young, only 16. He grew close to the Nehru family, especially to Indira's mother Kamala Nehru. In the following years, Indira and Feroze grew closer to each other while in England. They married in March 1942 according to Hindu rituals.
Indira's father Jawaharlal Nehru opposed her marriage and approached Mahatma Gandhi to dissuade the young couple, but to no avail. Thus Indira Nehru and Feroze Ghandy became Indira and Feroze Gandhi.