GM crops: RSS union demands CBI probe against govt regulatory body
Anurag Dey
| Updated on: 7 November 2017, 16:29 IST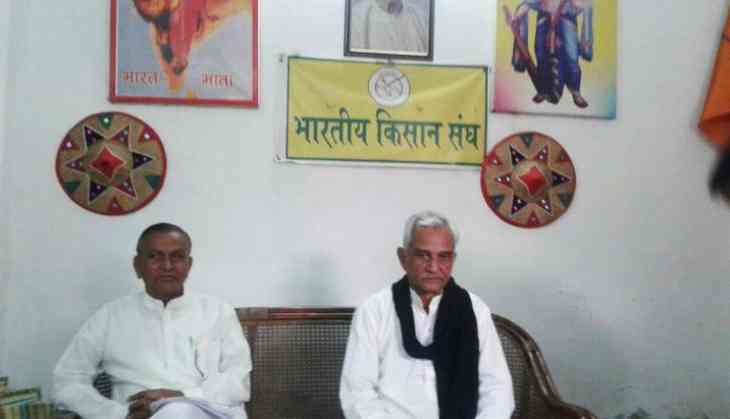 Rashtriya Swayamsevak Sangh affiliate Bharatiya Kisan Sangh (BKS), which is vehemently opposed to genetically modified crop, has trained its guns on the Genetic Engineering Appraisal Committee (GEAC). It alleges that GEAC has a nexus with multinational companies to clandestinely allow GM crops in India.
BKS had recently lodged a complaint over illegal cultivation of Monsanto's Roundup Ready Soybeans (RR soybeans) with the GEAC, sending samples of the crop along with details of two farmers and traders who were arrested for illegally cultivating the genetically engineered soybeans in the Aravalli district of Gujarat.
With GEAC allegedly not responding, the BKS is sniffing a conspiracy and has demanded a CBI probe.
GEAC is the apex body under the Ministry of Environment and Forest, for the manufacture, use, import, export and storage of hazardous microorganisms/genetically engineered organisms or cells.
It is also responsible for approval of proposals relating to release of genetically engineered organisms and products including experimental field trials.
BKS also questioned the GEAC's silence on the 50 farmers who died in Yavatmal district of Maharashtra as they had sprayed insecticide on their Bt Cotton plantations.
"We complained to GEAC chairperson Amita Prasad on October 20 regarding RR Soybeans cultivation in Gujarat. But far from taking any action it has not even acknowledged our letter," said BKS general secretary Badri Narayan Choudhary.
Herbicide-tolerant GM soybean is being illegally cultivated in Gujarat. Such harvesting has been done by three farmers in Modasa block of Aravalli district. But it is not clear as to what extent or for how many seasons has this been underway.
"We are sending you harvested plants with pods for testing and urgent action," reads the compliant to the GEAC filed by BKS national executive member Maganbhai Patel.
"We are compelled to question the sinister silence of the GEAC and suspect some kind of nexus with multinationals manufacturing GM crops. Maharashtra government has already asked for a CBI probe into the Yavatmal incident.
"Therefore, we demand that the Centre should order a CBI probe into the functioning of GEAC and whoever is found guilty should be tried for sedition," said Choudhary.
"We have repeatedly written to GEAC, NITI Aayog as well as the (environment) ministry expressing our alarm over GM crops and calling for a discussion. But they have chosen to remain silent," he added.
"Despite a ban on genetically-modified food crop by the Supreme Court as well as by a parliamentary standing committee, how come RR soybeans have not just made their way into India but are actually been cultivated and even harvested?" Choudhary further asked.
BKS said it will be approaching Prime Minister Narendra Modi with its demand for not just a CBI probe against the GEAC but also replacing it with a more competent authority.
"These companies have managed to spread the poison of GM crops in India through their money power and the toothless nature of our laws. Our export of food crops will be hugely impacted once it is known that Indian farmers cultivate GM crops," Choudhary said.
"Our demand is that the Centre should disband the GEAC and constitute an authority which has more powers to deal with GM crops. We also demand that all these companies be blacklisted and families of farmers killed or ruined because of these crops should be adequately compensated," said Choudhary.
The BKS also said it will launch awareness programmes and protest marches against the onslaught of GM crops.