"Ghero aur Maaro": Did Delhi SI claim he can kill anyone without an Aadhaar Card?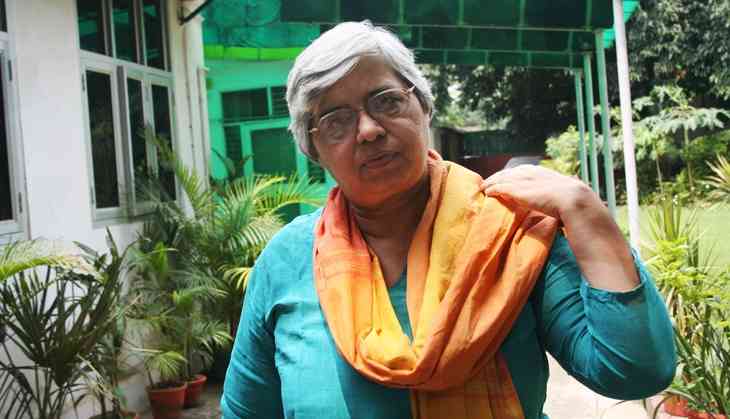 Noted social activist Shabnam Hashmi (Facebook)
Shabnam Hashmi, the noted activist and human rights campaigner, has alleged that she was threatened by sub-inspector of Delhi Police, Sandeep Malik, late last night. The reason? Her refusal to share her Aadhaar card number.

Hashmi, who is a founding trustee of Delhi-based NGO Pehchan, had called up the police officer on behalf of someone else. During this call, which Hashmi recorded, a male voice she alleges to be Malik issues a threat of violence against her.

"Pehchan is an education centre that works with school drop-outs in the Jaitpur extension. One of the girls who used to be part of the centre, Mubina and her husband Haseen, were threatened last night and the police officer asked Haseen to come to the Lajpat Nagar police station. After getting a call from Farida, Director of Pehchan, I decided to call the police officer to know what is the matter," Hashmi told Catch.
Death threat over Aadhar?
While Hashmi could not record the initial part of the conversation, where Malik was agallegedly gressive and abusive, she managed to record the remaining parts. "Arre meri baat sun, jiska aadhaar number nahi hai, hum usse kahin bhi khatam kar sakte hain," says the man in the recording, going on to claim that an "abhiyaan" is underway that allows the police to kill or murder anyone who refuses to share his or her Aadhaar identification number.

"The biggest question is not that I was threatened," says Hashmi, "but rather the fact that the government is trying to create an atmosphere of sheer impunity and abuse of power."
"It is not the question of just one person calling the police and being threatened. Any question that is raised is immediately diverted towards the border and the armed forces. So, unofficially there must be things told to people. This man must be identified as his number is registered in some Ashish's name. Moreover, there is no SI of such a name, but instead a police constable," she says, demanding a government response.

Apart from flagging the issue, Hashmi has also sent a letter to the police commissioner and copied it to the Home Minister. "What can a citizen do? I can raise questions and ask others to do the same. However, it's the responsibility of the government and the Opposition parties to answer them," she says in frustration. Hashmi had returned her national awards last month in protest against the attacks on minorities that have rocked the country in recent months.
On Wedenesday, Delhi Police arrested 41-year-old Harendar Malik, who has been identified as the man who threatened Hashmi on the phone. The accused hails from Uttaranchal Colony in Loni, Ghaziabad and works as a repairman for knitting machines. A case under Sections 419 (Punishment for cheating by personation), 506 (Punishment for criminal intimidation) and 509 (Word, gesture or act intended to insult the modesty of a woman) of the IPC has been registered against Malik, who allegedly told the police that he regularly makes phonecalls to unknown numbers.
Romil Baaniya, Deputy Commissioner of Police (South-East District) confrimed in a statement, "Malik is unmarried and had a tendency to call random numbers. If the call was received by a woman, he would talk in an obscene or vulgar way with them. If the woman threatened him with police action, he would say that he is posted in the police force," he said.