Focus on making railways safer, not bullet trains: E Sreedharan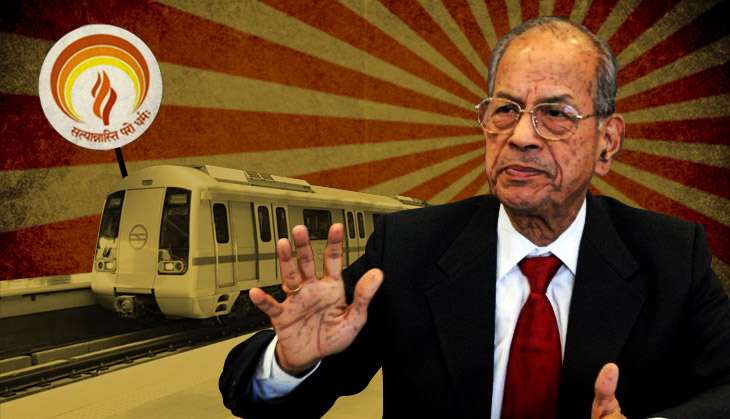 Former DMRC chairman E Sreedharan is 84 and still working
He feels Railways need to be kept independent from bureaucratic interference
Increasing efficiency and safety is more important than projects like bullet trains, he says
E Sreedharan, whose name is synonymous with 'Delhi Metro' and 'Konkan Railway,' two outstanding mega projects that he delivered on time, without a whiff of corruption, is on a different mission mode now.
At the age of 84, while continuing to be the principal advisor of Delhi Metro Rail Corporation's Kochi metro project, he is busy waking up his countrymen to demand, what he has identified as, five essential issues: administrative, police and electoral reforms, general hygiene and value-based education. For this purpose he has set up an NGO called Foundation for Restoration of National Values, based at Delhi, and recently opened two of its chapters in Kerala and Karnataka. "We need to clean up the system and give our people better institutions," he says.
Here are excerpts from an interview:
Q: Delhi Metro was perhaps one mega project executed with great efficiency and with the least corruption. How did you achieve it and what lessons it has for others handling similar mega projects?
A. Though Delhi Metro was established as a government-owned company, I was able to bring a wholly different culture to its functioning as it was one of my conditions (while accepting the responsibility) that I should have full freedom to take all technical decisions; and freedom to decide on the type of organisation.
So, I was able to set up an excellent organisation with real values needed for integrity, punctuality, timely completion and low cost through quick decision making process. The main thing is decision making, delegation of powers and work culture.
Q: So, what lessons it has for other bureaucrats heading similar mega projects?
A: If you ask me, a bureaucrat is not the right person to head such projects. It has got to be a technocrat who can take technical decisions. Bureaucrats are not able to take technical decisions and they depend on someone below them. That fellow will not take the decision because he doesn't have the confidence or will not get support from the top. That's why such projects should be headed by really good, experienced technocrats....I will support a bureaucrat with technical background, who should be fully devoted to that organisation. What is generally happening today is that the state governments simply depute somebody who has many other responsibilities. And he is there only for a short period.
Q: The Indian Railways is heavily dependent on the government subsidy. How does one make it a more viable entity?
A: It is not so these days. They are able to break even. What is the government giving? In fact, it is the other way. The railways is giving dividend to the government. Why should it be so, I don't understand. By one stroke of pen it can be removed and the railways will immediately be richer by at least Rs 10,000 crore.
What is needed is revenue should be increased. We should raise fares, there is no question about it. Why should railways go on subsidising, they should charge the actual cost. I have been telling successive railway ministers, you should not shy away from raising the fares in the second class, which bring in 95 % of the revenue.
Even if they raise by 25% it will straightaway give Rs 35,000 crore to Rs 40,000 crore. It has to be done in stages. Now, no private party wants to invest in railways because none of the railway projects gives even 10-12% returns. We should be able to raise revenue.
Q: In the freight sector, the railways is losing badly to the road. What measures need to be taken to restore railways' primacy in goods traffic?
A: The biggest mistake we have made in freight is that we have made railways only a bulk carrier, like the food grains, coal, iron ore etc. Small parcels are not being carried at all. If someone wants only 2 or 3 wagons, it is not possible. They must have a system where even small quantities of goods are carried.
I had given a scheme, where you have a dedicated train service, for example, from Delhi to Chennai every week at fixed time. You need to bulk the small items and run goods train from point to point....But they haven't implemented it.
Q: There is a proposal to do away with the Railway Budget. Do you think it is the right move?
A: No. It is a very bad idea, a foolish idea. Then, the Railways will have to entirely depend on the government for resources. They won't be able to raise money from outside, because it becomes a government department. A government department can't borrow money, only the government can. Today, railways are raising money from LIC or somebody else. This great source of revenue will be lost immediately. They will entirely be at the mercy of the government for funds. The Railways loses the initiative to raise funds hereafter.
Secondly, it becomes a bureaucratised organisation. Now it has got a lot of latitude, a lot of independence; all that will all go away. Railways will become like a road transport corporation or the national highways. It's an extremely foolish idea proposed by the Niti Ayog. I will write to the prime minister asking him to drop the idea of abandoning the Railway Budget.
Q: How do we make the railways safer?
A: Not many people know that every year 16,000 to 18,000 people get killed by the railways and six to eight die every day on Mumbai suburban trains alone...There are a number committees appointed by the railways to look into safety aspects. The latest was the Anil Kakodkar committee which submitted its report in 2013.
I was a technical member of the committee. We made a number of recommendations, even suggesting the methods to raise the money for that. It could have been implemented in five years time, but the railways have not even taken it up...We had suggested safety cess to be levied in certain areas, increase in fares, not touching the freight, but passenger fares, and had suggested economy measures. If they are implemented, it will reduce the expenditure by 15 to 20%. Why are they not doing it?
The only thing is they have to take the organised unions into confidence. But I have dealt with them for 35 years and they are highly reasonable. They can be taken into confidence.
Q: What's your view on the bullet train which is proposed to be introduced?
A: Bullet trains are highly capital intensive. Also we don't have the technology. This is a vast country with long distances, and therefore we need them. But that should not be the priority today. The priority should be to make the present system safer, more comfortable, more punctual with vastly increased capacity. Today, if you want to purchase a ticket, it is a struggle to get reservation. Therefore, the focus should be on building the capacity to meet the demand.
Also Read: Rail Budget: Five unaddressed problems that sour the railway experience
Also Read: Railway Budget 2016: here are Suresh Prabhu's plans