'Drop case against Eknath Khadse': Anjali Damania gets a chilling call from Dawood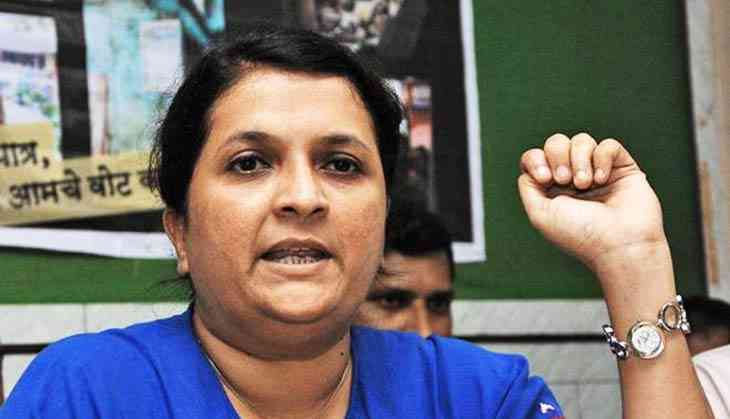 Late last night, social activist Anjali Damania was in for a rude shock when she received a call threatening her family if she did not drop her case against senior Bharatiya Janata Party (BJP) leader Eknath Khadse.
The call, which was made from Pakistan, was made by a number that shows up as 'Dawood 2' when searched for online, and is believed to be from fugitive underworld Dawood Ibrahim. Damania immediately reported the matter to Mumbai Police and a case has been registered.
Informed CM on threat call frm a landline number of Pakistan,asking me to withdraw all cases against Eknath Khadse.Jt CP Crime investigating pic.twitter.com/Gsws5rO8WK

— Mrs Anjali Damania (@anjali_damania) September 23, 2017
"I don't know who it was. It was at 12.31 am. When I received the call, the caller started threatening me. He said since I had family, all the cases against Khadse should be dropped or face dire consequences. I called Chief Minister Devendra Fadnavis immediately and he assured that action would be taken. The FIR was registered at Vakola police station. The Commissioner of Police Datta Padsalgikar also called me in the morning and instructed the crime branch to investigate the matter," Damania said.
Khadse, who was forced to resign as Maharashtra's Minister for Revenue, Agriculture and State Excise last year following serious charges of corruption, is also in trouble for allegedly being in contact with Ibrahim.
In 2016, Manish Bhangale, a self proclaimed ethical hacker, had alleged that Khadse was in contact with Dawood Ibrahim and even produced bills of a landline number in Karachi which was reportedly registered in the name of Dawood's wife, Mehjabeen Sheikh. He made the information public when Khadse was already facing corruption charges in connection with the illegal procurement of a piece of industrial land near Pune, for which the government has ordered an inquiry.
However, Khadse got some relief when it was proved that Bhangale had actually forged the telephone bill and other documents to support his claims. Bhangale was later arrested by Mumbai Police.
Damania's case
Early this month, Damania sought the intervention of Fadnavis to arrest Khadse for allegedly making obscene remarks against her during his birthday celebrations at Jalgaon on 2 September.
"I came to know about it from my well-wishers. I gathered all the audio and video evidence against him and lodged a police complaint at Jalgaon police station. It took me two days to get the complaint lodged. A team of Jalgaon police visited me on 21 September to record my statement and today I got the threat call from Pakistan. I feel that there is a connection between the police complaint and the treat call, but cannot comment as of now," Damania said.
According to Damania, the caller, after confirming that he was talking to her, said, "You have made everyone's life miserable. You have family. Withdraw cases against Khadse."
After the call was over, Damania searched the telephone number on the internet and found that it was registered in the name of Mehjabeen Sheikh on an address of Karachi in Pakistan. Damania will soon meet Union Home Minister Rajnath Singh to brief him.
Reacting to the development, national spokesperson of Aam Aadmi Party (AAP) Preeti Sharma Menon said, "The Dawood–Khadse nexus has been exposed once again. The fact that Damania got a call from a telephone number +92 21 358717719, which is a Pakistan number and the caller wanted the cases against Khadse dropped, proves it beyond doubt. We demand that the investigations into the matter be handed over to specialised agencies like Research and Analysis Wing (R&AW) or Intelligence Bureau (IB) as the number is said to belong to Dawood Ibrahim."
In the past, when ethical hacker Bhangale alleged that Khadse was in contact with Dawood, he had traced the same telephone number in Karachi, Menon said.
"During this matter, the Crime Branch of Mumbai Police had given clean chit to Khadse in just four hours. Under these circumstances, we cannot trust the same officials to carry out an impartial investigation into the alleged threats to Anjali Damania," Menon said.