Closer look at Alt News: Pratik Sinha on how hard it is to fight fake news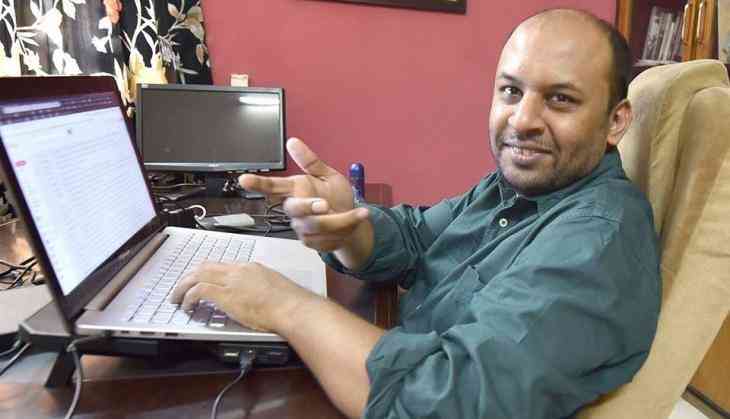 (Courtesy Pratik SInha/Facebook)
Earlier this year, Pratik Sinha received a call from an unknown number. On answering, he wasn't met with a greeting, but rather a threat. The message was short and simple – cease what you are doing, or we will harm you.

Sinha brushes off this threat, claiming it was one among a spate of similar calls that went out to people opposed to the BJP government in Gujarat. However, the fact that Sinha was on the receiving end of this call, shows just how much of an impact this otherwise unassuming man from Ahmedabad has had.
Getting started
Sinha is no politician. While he works with his father Mukul Sinha's civil liberties organisation the Jan Sangharsh Manch, Sinha has become the toast of social media for his Facebook page Alt News.

The page, now with over 40,000 followers, and thousands of reactions and shares on its posts, has risen as a rare bastion of truth in a medium otherwise deluged with fake news. This work saw him invited as a delegate to the recently concluded Media Rumble, where we caught up with him to find out more about his crusade against the fake news epidemic that's plaguing the country.

While Alt News may be Sinha's current claim to fame, he's quick to remind us that he's been doing the same sort of work for years now.
"Alt News' first post went out on 9 February, 2017," says Sinha, "However, before that I was already running a page called Truth of Gujarat since July, 2013." That page, much like Alt News, was Sinha's response to something that troubled him – fake encounter killings by Gujarat police.

"The Jan Sangharsh Manch dealt with all the cases of fake encounters in the state. Through my association with the organisation, I witnessed the fake information being put out by BJP spokesmen vis a vis these cases.

"I had just come back to India, and saw my parents were sitting on a pile of information. I thought 'Why not put it online', and that's how Truth of Gujarat started. Eventually we went into the Gujarat riots, the Gujarat model, etc. Basically it was focused on Gujarat pre-2014 elections," Sinha tells us.
Alt News is born
However, he found this work limiting. "After 2014, I was busting fake news, but as part of Truth of Gujarat," he recollects, "However, Facebook creates an echo chamber, because only if someone likes your post they see more of your posts. So people with different ideological inclinations do not see your stuff. This was limiting my impact, which is why I decided to start something new."
The result, Alt News, took shape while Sinha was participating in the 10-day-long protest march from Ahmedabad to Una that occurred in August, 2016, after atrocities against Dalits in Una. "There was hardly any mainstream media coverage. That's what made me realise there was a need for a platform that documents people's struggles."

The following month, in partnership with the admin of the Unofficial Subramanian Swamy Facebook page, he drafted a document that would create the outline of Alt News.

The document stated two aims – increasing visibility of people's struggles, and fighting fake news. "Since documenting people's struggles takes more resources and money, I started with fighting fake news first," Sinha says matter-of-factly.
The fake news industry
No sooner did Alt News spring up, than it went viral. Its popularity as well as Sinha's may seem a bit strange.

Fact-checking, after all, is hardly what one would term sexy. However, to understand the immense respect people have for what Alt News does, we need to understand the sheer size and machinations of the beast Sinha is fighting.

While one is tempted to believe that the fake news industry is all driven by ideological propagandists, Sinha explains the more insidious reality of fake news. "There are multiple motives causing it [fake news]. Look at the fake news websites, for them revenue generation, the economic model they are built on, is the driving factor. They are essentially content creating engines. They put out content and don't care about the veracity of the content.

"Fake news is now big business. It's a great driver of revenue," he explains.
This has spurred the fake news industry to ever greater heights, with fake news sites like Postcard News now among the top 500 most viewed websites in the country. "Ideology is secondary to these people," he claims.

"If they [people running these sites] had realised how they could game the system before they had an ideological leaning, they would still create fake news. I cannot deny that they have an ideology. It is a driving factor, but if tomorrow, for whatever reason, it becomes more profitable to produce fake news about somebody else, if it is not as profitable to provide fake news about the Right, they would still do it," Sinha says gravely.

This, though, is only one part of the fake news beast. The other, is political propaganda. "When it comes to fake videos, WhatsApp messages, fake images, memes, texts, that is political propaganda, there's no doubt about it," he says emphatically, adding that while most of the fake videos and images being generated are from the right-wing, fake news exists on both sides of the political divide.
The fight against faking
With a dedicated fake news industry and political parties actively contributing to the problem, Sinha, a one-man operation is fighting an uphill battle. "I am the only full-time employee," he says, seemingly unfazed, adding, "There are two part-time contributors who would like to remain anonymous." "Neither of them are journalists," he clarifies when pressed.

He's aided in his fight by similar fact-checking start-ups like Govindraj Ethiraj's Boom Live, and Pankaj Jain's SMHoaxslayer Facebook page.
Even so, he refuses to equate mainstream media with fake news websites. "With mainstream media there is at least transparency, you know who wrote the story and you can ask for accountability. In the case of fake news websites they function under the cloak of anonymity, they don't care for credibility," he says.

For a man who's had to deal with more than a few pieces of fake news put out by legacy media houses, Sinha still remains optimistic about them. "It's a business to them," he explains, "At some point of time, when credibility, or the lack thereof, starts hurting their business, that is when they will start to institute these practices."
Sinha isn't waiting around for the rest of the media world to turn over a new leaf though, he's already got his eyes set on the next step in the fight against fake news.

"At present the whole thing is just a voluntary effort. Now, we're in the process of registering a not-for-profit company. Once that happens, we can reach out for funds and the first priority then is a Hindi website," he says, excitement creeping into what is otherwise a very level voice.

"That is the area which needs fact-checking the most, because even the fake news websites propagate most of their content in Hindi."