Chalo Nagpur: Thousands flock together to remember Savitribai Phule & vow to fight their odds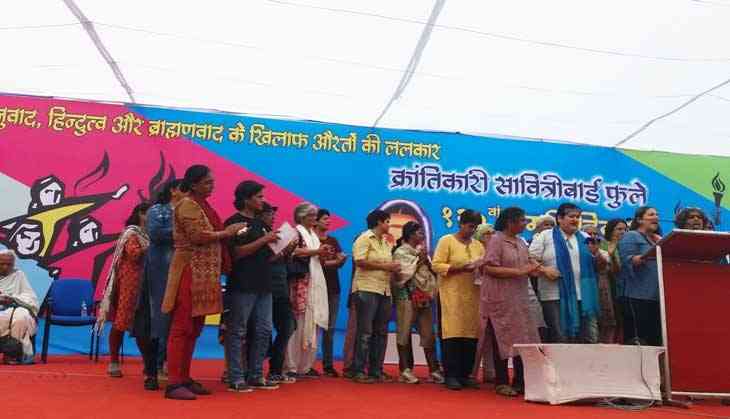 (Ashwin Aghor/Catch News)
It was a rare gathering in Nagpur. Thousands of women from across the country assembled at Nagpur to rise together against the growing tide of hatred, injustice and domination in the country. The occasion was the 120th Remembrance Day of Krantijyoti Savitribai Phule.
More than 4,000 women gathered at Indira Chowk Maidan in Nagpur on Friday. And they were all there to celebrate the life and legacy of India's first woman teacher, poet, writer and leading champion of women's rights, who sounded a clarion call against Brahmanical casteist patriarchy in the 19th century.
Today, women are inspired by how Savitribai educated the Shudras and women, exposed the hollowness of the Manusmriti and Brahmanical social practices, boycotted traditional restrictions imposed on women, and set us on our path to freedom.
Noted Human Rights activist Shabnam Hashmi said, "Women in thousands gathered here in the headquarters of the Rashtriya Swayamsevak Sangh (RSS) to expose the nexus between the corporate and communal patriarchal forces and to reclaim the constitutional structures which are under grave threat under the present regime."
With words and songs, dance and art, poetry and theatre, the activists raised their voices for justice, friendship, peace, freedom, equality and dignity. In doing so, women confronted the growing inequality and intolerance in the society, and the efforts to silence the voice of dissent.
"We gathered here from villages and urban centres, university campuses, organised and unorganised workspaces, our homes and the streets to speak out for the rights guaranteed to us by the Constitution. To reiterate that in a secular, democratic state, no one has the right to discriminate, humiliate, violate, oppress, or commit atrocities against any person or community based on their identity," Hashmi said.
Fight oppression in their backyard
The event started with a bike rally lead by young boys and girls of Nagpur and adjoining areas. Poems and songs celebrating diversity and condemning Manuvad, Brahmanvad, caste discrimination were read out by women and men from Uttar Pradesh, Maharashtra, Bihar, Gujarat, Telangana, Odisha and others.
Speakers from various backgrounds also put their points across and stood together, proclaiming in one voice against the forces of Manuvad and fascism oppressing women and marginalised communities from time immemorial.
Manjula Pradeep, Human Rights Activist, said, "Hindutva and Brahmanism are the two pillars of oppression and to break them into pieces we need strong forces of unity, assertion and protest and that's why we are all here at Nagpur."
Jaya Sharma, noted feminist and queer rights activist, from New Delhi, said, "We thought of Chalo Nagpur so that the women's movement could declare, here in Nagpur, that feminism will fight Fascism. As Dalit, Bahujan, Muslim, queer, disabled, sex worker, student, tribal and transgender feminists from across India – we wanted to come together to fight the Sangh Parivar at its cradle."
Rohith Vemula's mother Radhika, who was also present at the edvet, said, "I am a part of this movement because I believe in justice and I want to ensure that there is no more injustice like what Rohith had to face. I have had to face a lot of pressure since Rohith's suicide, questioning my finances, my Dalit identity. But I am undeterred."
A promise to unite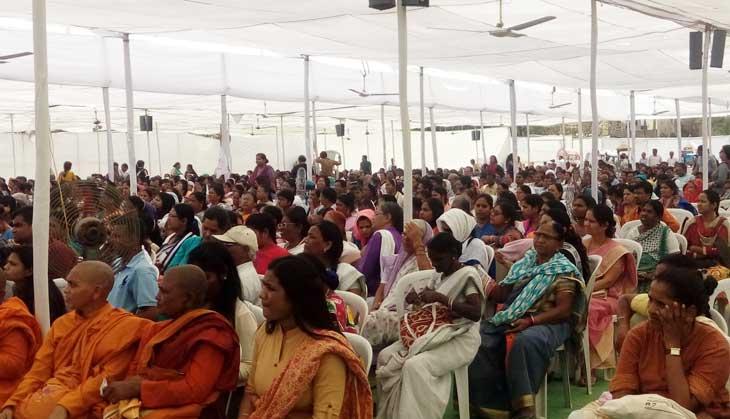 Ashwin Aghor/Catch News
The leaders and activists of the women's movement who came together and resolved that Dalit, Muslim, Adivasi, Bahujan, working class, religious and ethnic minority women, disabled women, queer and transgender people, organised and unorganised working-class women, sex workers, nomadic tribeswomen, students and many more from different parts of India, would unite in their fight against the oppressive social order created by the nexus of Brahmanvad, Manuvad and Hindutva.
They vowed to come together against continuing state violence, which has erupted as an assault on the freedom of expression, Dalit-Bahujan student suicides, farmer suicides, development-induced displacement, rape as a tool of war used by the Indian state, the control of women through communal violence, ethnic pogroms, genocide, attacks on the university community, and the use of laws to suppress dissent and create terror such as the anti-conversion and cow-protection laws, AFSPA, UAPA and other draconian laws.
The violence produced by Brahminical hetero-normative patriarchy is glaringly evident from the 20,300 cases of rape reported by Dalit women alone between 2002-2015.
"We stand against the imposition of caste-specific occupations such as manual scavenging, coercion into the Devadasi, Jogini, Bedini system, the denial of work and access to education for women of oppressed castes and transgender people. To be committed towards the implementation of our Constitutional rights to ensure equality of opportunity, labour, dignity and justice to all women. To strengthen the implementation of laws around caste and gender injustice, such as the SC/ST PoA Act, and those addressing sexual and domestic violence on women and children."
The activists also resolved to:
– Condemn the state for not repealing Section 377 and failing to implement the true spirit of the judgment recognising the rights of Transgender persons (NALSA) or ensuring protection to LGBTHIQ communities.
– To support women's reservations and seek that quotas be increased from 33% to 50%, with representation to different sections of women in proportion to their population.
"We collectively commit to fighting the hegemony of Brahmanvaad, Manuvaad and Hindutva, and working towards equality, dignity and liberation for all," the activists resolved.