Toxic chemicals found in Mangoes; these tips will help you to find the right one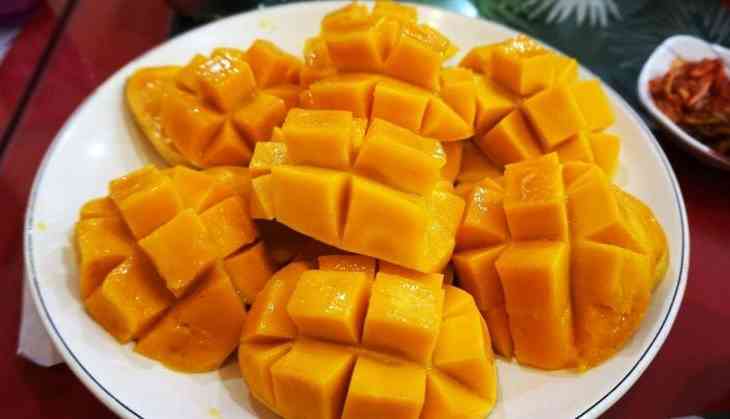 Needless to say, but Mangoes are indeed the first fruit that comes to our mind when we think of summer.
This yellow juicy delights are not just delicious but also have several health benefits. But it has been found that some toxic chemicals are found in mango fruit which can be harmful to your health.
Mangoes come packed with a host of nutrients like fiber, vitamin C, vitamin A and numerous antioxidants that promote health.
The mango fruit is hailed as the king of fruits, but now a shocking news report has its claims of finding the toxic chemical in it.
There is a possibility that it may come with toxic chemicals that may do more harm than good.
Many fruits are said to be artificially grown and sold off as natural and fresh.
A news report by NDTV quoted Ashwin Bhadri, CEO of Equinox Labs, "Artificial ripening of mangoes is on a rise across India, citing the scarcity of the product in the market and its demand by consumers. Calcium carbide is the leading chemical that is used in this process. Pouches of calcium carbide are placed with mangoes. When this chemical comes in contact with moisture, acetylene gas is produced, the effects of which are similar to ethylene, the one that is naturally used for fruit ripening process. Not just mangoes, several other fruits are artificially ripened and the problem is global."
Ways to find out chemically ripened mangoes -
1. Color check
There is a chance that there are patches of green in an artificially ripened mango. These patches will be distinguishable from the yellow ones.
2. It will taste different
When you eat ripe mangoes, you may feel a slight burning in the mouth. Some may experience stomach ache, diarrhea etc.
3. No juice may mean it is artificial
Another way to find out is that you just have to squeeze the juice out of the mango. A well ripened mango may have lots of juice in it; however, artificially ripened mango may have little or no juice.
Make sure to remember these tips to identify artificially ripened mangoes next time you go fruit and veggie shopping.
Take care ..!!
Also Read: Alert People! Eating raw fruits and vegetables improve physical and mental health