Give the 'dais' their due: how India can fight its disastrous infant deaths
The issue
In 2013, India had 17% of global maternal deaths.
Niti Aayog - a government think tank - finds India\'s health parameters are lower than Bangladesh.
Save the Children ranks India one of the most high risk places in the world to give birth to a child.
Startlingly, urban mothers get even less medical support for deliveries than rural ones.
The gap
There are very few qualified professionals for deliveries at home - even in cities.
The fix
Untrained quacks and dais - or midwives - provide most of the healthcare in rural India.
Instead of scorning them, they need to be turned into a network of informed health care workers.
India made a disastrous attempt at this. But Germany has a positive model.
Saraswati Murmu is lying on a straw mat, groaning in pain with beads of sweat dripping down her forehead. Although she has given birth twice before, this time the labour contractions are making her weak. Her husband, Gaur looks worried.
It is 11:30 pm at Haur village in Bengal's East Midnapore district. From here, the nearest district Government hospital is 30 km away. Gaur quickly digs out Saraswati's National Rural Health Mission health card provided by the village healthcare centre.
It mentions her due date and the injections administered to her. Importantly, it also has the phone number of the ambulance driver. Gaur quickly punches in his number.
"Dada, my wife is in labour and needs to be taken to the hospital urgently," says a panicky Gaur. After a brief pause he hears a calm voice: "But I am at a Jatra. I can't reach before two hours."
Sukumar the savior
Even as Gaur feels helpless and enraged at the ambulance driver enjoying a rural stage-show, a shabby lungi-clad man comes riding a creaky bicycle with a small bag containing syringes and medicines. A wave of relief appears on Gaur's face. At least Sukumar Nandi is here.
Sukumar Nandi, an RMP or Rural Medical Practitioner - more of a quack than a medic - is a Class VII dropout. He had hung around a medical compounder, observing him for some years, before he came back to the village to set up his own 'practice' in a shack.
The Murmus are tribals and cannot afford a nursing home. Saraswati was clear that she wanted to go to a hospital after her second child was born with complications. But with the premature labour pains that option is closed. Now, she has to submit to Nandi's intervention.
Sukumar at work
Nandi puts down his cloth bag, pulls out a syringe and injects Saraswati. The baby has begun its descent. Nandi pulls the infant out with bare hands. Once the baby is out, Nandi sends Gaur to get a 'chochali' - a piece of bamboo.
Gaur rushes out with a sickle and brings back a piece. The baby is screaming, still wrapped in white mucous. Nandi takes the sharp end of the chopped bamboo, wipes it on his dirty lungi and cuts the umbilical cord - setting the baby free from its mother.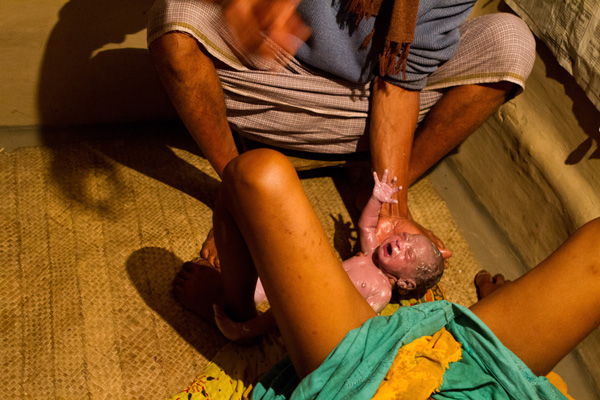 He then proceeds to wash the baby in lukewarm water despite Bengal's cold February weather and wipes the baby's mouth with the same dirty cloth he had used during the delivery.
Later, Nandi opens his bag and gives both mother and baby a shot of tetanus, with the same syringe.
Motherhood fraught with danger
Niti Aayog, the government's think tank, recently published a paper on health systems in India over the last two decades, comparing it to countries like China, Bangladesh, Nepal and Vietnam.
India languished at the bottom of the ladder on most parameters. However, it fared the worst on infant mortality (IMR) and maternal mortality.
The State of World's Mothers, an annual report by international NGO Save the Children, confirms this finding. It says, despite its booming economy, India still remains one of the most high risk places in the world to give birth to a child.
In 2013, India had 17% of global maternal deaths.
The Janani Suraksha Yojana (JSY), launched in April 2005 to reduce India's high maternal and infant mortality, has failed miserably.
In 2010, less than two in 10 women in India received medical attention by a qualified professional while delivering at home.
India remains one of the most high risk places in the world to give birth, says the State of the World's Mothers report
India also failed to meet the fifth Millennium Development Goal, of reducing maternal mortality to 109 per 1,00,000 live births by 2015.
Contrary to popular belief, fewer women in urban India received medical attention while delivering at home than rural India - 10.8% against 16.2%.
In West Bengal particularly, one in four births were attended by 'untrained functionaries'.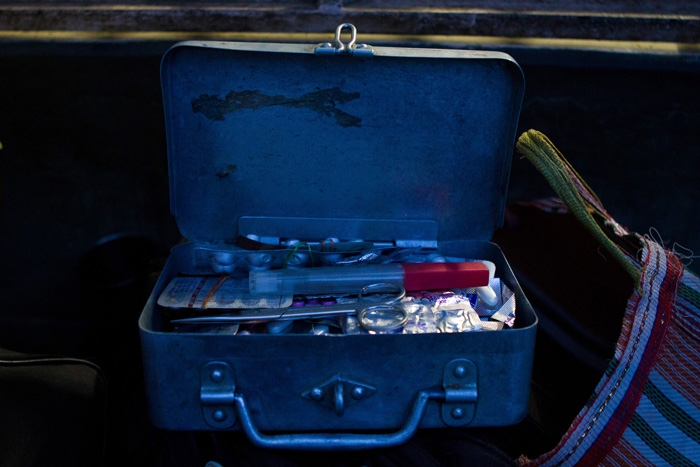 Things are no better in Delhi either. When 28-year-old Promit Giri, now a trauma specialist at Fortis Calcutta, completed his MBBS and was posted in Najafgarh in Delhi in 2009, he was shocked at the threadbare manpower and infrastructure.
"No gynaecologists were available after 7 pm. For delivery cases that came in after that, we interns had to use the little knowledge that we had. It was an absolute mess."
State intervention dysfunctional
Health experts and NGOs are now pushing the government to re-incorporate midwives like Sukumar Nandi into the strained healthcare system by training them in modern childbirth practices and equipping them to handle complications.
A scheme for training dais and midwives was initiated during 2001-2002 in 156 districts in 18 states and union territories. West Bengal was one of those. These districts were selected because their safe delivery rates were less than 30%.
Rs 5.21 crore was released during 2000-2001 and an additional Rs 17.60 crore during 2001-2002. The aim was to equip dais with sufficient expertise.
But Dr Amitava Chowdhury, public health specialist and general physician, who was part of the training programme, calls it a disaster.
"The programme was too short. The dais were hardly interested in learning. Most were illiterate, too old, with cataract and other ailments. They were in it for the per diem," says Chowdhury.
The programme was withdrawn as the West Bengal government was convinced that this would reduce institutional deliveries and fewer people would enroll themselves in hospitals.
It is a respectable profession
Chowdhury feels that the dai training programme could have been better planned.
He cites the example of Germany where the job of a birthing attendant is a respectable career. When the German government realised that home birthing was becoming popular, they rolled out a training programme - any graduate can get a birthing assistant certificate by undergoing a basic course and performing 300 deliveries.
"There has to be a certain quality of training and testing of expertise before recognising them as State-approved birth attendants. And it should be seen as a respectable career," says Chowdhury.
Poonam Muttreja, Executive Director, Population Foundation of India, holds the same view. She says that the push for institutional deliveries does not have to be at the cost of training dais.
"The two must co-exist. Institutional deliveries in remote areas are rare due to lack of transportation and cultural norms. We should make a big push to train dais, especially to recognise emergency symptoms. They need to learn to identify high risk deliveries so they can ensure that a patient reaches the hospital in time," Muttreja says.
Midwives, reliable but unsafe
Photojournalist Natisha Mallick, a fellow of the National Foundation for India, has been documenting rural home births since August 2012. "When I first began this project my perspective towards RMPs and midwives was negative. But by photographing their work, I began understanding their indispensable role", says Mallick.
When she last checked with Saraswati, both mother and baby were doing well. But not all cases end up that way. In a case that Mallick documented in 2013 in a traditional Muslim family in East Midnapore, the RMP was not allowed in. Meanwhile, the midwife yanked the baby out, accidentally ripping its umbilical cord. Finally, the RMP was allowed in to salvage the situation.
The Dais and RMPs may end up saving lives, but they also pose severe health risks in the absence of any authorised medical facility in rural Bengal.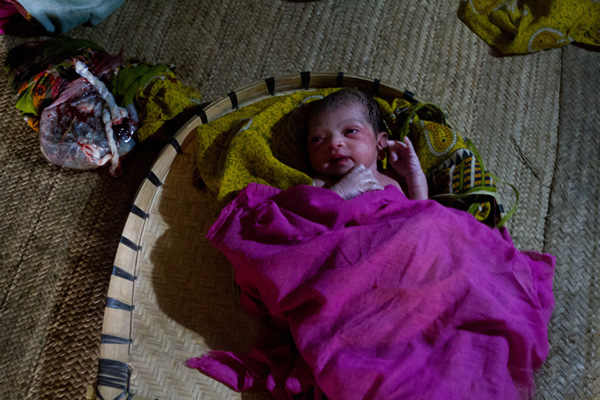 Chowdhury knows because he has first-hand experience in fixing quack jobs gone wrong. "Ninety nine per cent of the abortions are performed by RMPs. Their methods are simply life threatening for the mother," Chowdhury says. And this is what reinforces his belief in professionally training the midwives.
The dai legacy carries on
"By the end of my project, I realised that for thousands of mothers like Saraswati, their only hope were quacks and dais," says Mallick. Also, they are affordable as a family pays just between Rs 100 to 500 per delivery.
Dais do command respect in communities. Muslim families invite the midwife for a feast on the sixth day of child birth and present her with a sari and money.
In 2012, when Mallick had gone on a shoot to Nasekerdighi village in East Midnapore, she met with 90-year old Sundari Ghodoi, a respected midwife. Though retired, Ghodoi had trained her five daughters-in-law, who in turn passed on their learning to their 10 daughters and daughters-in-law. Now all of them are experts at home birth.
Most of rural India gets maternity services from Rural Medical Practitioners - who are more quacks than medics
"At the end of the day, these are people who care for us, and feel our pain and joy. I would never go to a hospital and be treated like an object, where doctors perform a c-section even if there isn't a need for it," says Ruksana Begum.
She gave birth to her second child, a baby girl, at her mother's home in Jaikrishnapur village. Aided, of course by RMP Sudha Kantachal and midwife Jaida Bibi.