Under pressure over forest fires, Uttarakhand gives in to blackmail by striking forest guards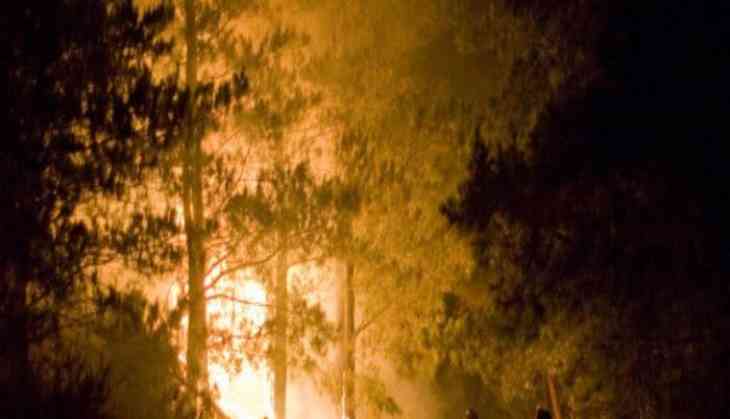 It is that time of year again when natural and man-made fires engulf large parts of forests in Uttarakhand destroying natural resources worth crores. Not just the forests, these fires destroy animal habitats killing thousands of birds and wildlife each year. February marks the beginning of this catastrophic phenomenon and this year has been no different with forest fires already gutting more than 283 hectares of forest land, including plantations, leading to an estimated revenue loss of Rs 50 lakh.
However, what had made matters worse for the state this year around, was an indefinite strike called by forest guards over the changes in service rules of guards and foresters. On 12 March, among many other changes, the state Cabinet approved that only those who have cleared intermediate can apply for the post of forest guard.
Moreover, what had led to forest guards going on strike is state Cabinet's decision to fill up 33% post of foresters through direct recruitment. Earlier, all post of foresters were filled through promotions which meant that only forest guards would go on to become foresters. As per the new rules, only 67% of forest guards would be promoted as foresters.
Forest guards were also opposing Cabinet's decision to promote only those forest guards who have completed 10 years in service. Those on strike demanded that these two changes made by the Cabinet be revoked at the earliest. At first, hectic parleys between top forest officials and agitating forest guards failed to achieve any breakthrough leading to huge shortage of manpower to bring forest fires under control.
However, talks between representatives of forest guards and forest minister Harak Singh Rawat led to the former calling off their strike after the government changed the rules and declared that the forest guards with 5 years in service would be eligible for promotion. Moreover, the 33% clause will now be applicable to only on new recruitment. This move led to forest guard calling off their strike and returning to work after assurances from the government.
Though forest guards had raised the banner of revolt against the cabinet's decision, there were very few takers for their demands either in the top echelons of the department or civil society. Jai Raj, Head of Forest Forces (HoFF), informed Catch that the Cabinet's earlier decision would have helped the department become more robust.
"We need to infuse young blood in our department to help it achieve desired results. We follow the same policy for the recruitment of Range Officer or other top posts. These are selfish interests of the forest guards who do not see how this policy will help in providing employment to young boys and girls," Raj said.
When questioned whether the strike was hampering in dousing forest fires, Raj did concede that it has definitely slowed the process down. However, he did mention that alternate arrangements had been made and daily wagers, PRD jawans and ex-army personnel were pushed into areas where fires were being reported. "We would not bow down to such blackmail," he had earlier said.
Alarmed by the situation, the department even suggested that the Cabinet will be requested for an immediate hearing of the forest guards but that couldn't materialise as the state assembly was in session. The senior officials also made a plea to those protesting to take back their strike in wake of the forest fires being reported from across the state. But, this also didn't deter the protestors, leading to the department making alternate arrangements on a very short notice.
Already the department has passed the order of replacing personnel from other departments for every guard on strike, it was still not enough. It was decided that these personnel will be given proper training on handling forest fires and paid on daily basis. However, it was the department's decision to initiate disciplinary action and invoking the 'No Work – No Pay' clause helped achieve a breakthrough.
However, not everyone seems to be happy with government conceding to this blackmail by the forest guards.
Dinesh Pandey, an environment activist, is dismayed with the decision and pointed how the policy of recruiting foresters through promotion is flawed considering most of them are not even educated enough to take up that job. According to him, forest department is undergoing a massive transformation with new technology, like GPS, being used for better surveillance and forest management.
"Most of these forest guards who are hoping to become foresters have not even passed 10th exams. So, it makes no sense to deny youngsters with better education this opportunity. Nearly, 80% of these forest guards have submitted forged documents and I know several of them who have used such documents to get jobs. These youngsters are far more motivated as compared to these forest guards who have no interest in protecting forests or its inhabitants," said Pandey.
He went on to add that forest guards hardly play any role in dousing forest fires as they hardly venture into forests unless it is for some "profitable reasons". It is the watchers and fire watchers who really risk their lives to stop these fires. Pandey is of the view that they are opposing the 10 year clause for promotion because the forest guards who will retire in next couple of years would want to become foresters to draw better pension.
"It is not that they want to become foresters to protect forests, they just want better pension. Moreover, some of these illiterate foresters will go on to become rangers which will spell doom for the department. They can't even initiate criminal or any other proceedings against those violating forest laws because they don't even know how to do it. They are not even equipped to collect scientific data so government shouldn't have surrendered to such blackmail," Pandey added.
In 2016, fires led to destruction of 4,434 hectares of forests and 104 hectares of plantation leading to massive hue and cry by judiciary and civil society. This sort of destruction led to judiciary coming down heavily on the forest department with High Court passing the order that a wildfire burning for more than 24 hours will lead to suspension of divisional forest officer. Further, the court ordered that fires burning for over 48 hours and 72 hours will lead to suspension of conservator of forests and principal chief conservator respectively.
To avoid further embarrassment, the government succumbed to the pressure from the protestors but somehow managed to reach a compromise. Facing one of the driest spells in recent memory, Uttarakhand recorded 76% and 66% less rainfall in post monsoon and winter periods which could spell doom for the state.
With increasing temperatures and decreasing humidity, forest fires are likely to be much worse as compared to previous years and if the strike would have continued it would have hampered the department's efforts in bringing them under control. The strike may be over for now but it does raise serious questions on how the state government's efforts to infuse new blood in an aging workforce was met with such opposition.
Should the government have conceded to their demands? And, does it set a precedent for any such changes in future? Only time will tell whether it was right for the government to bow down to such blackmail.