Now, religions unite to save the world from climate change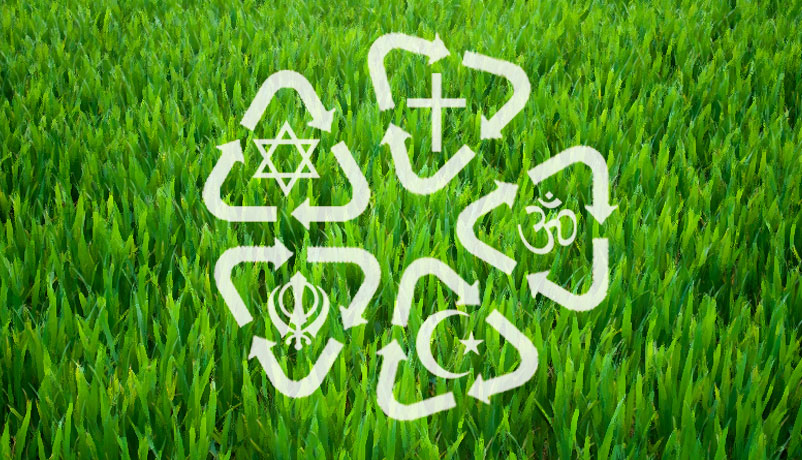 It's not just the Pope who is openly worried about climate change. In the last few months, leaders from almost all major religions have demanded a decisive deal at the UN climate conference later this year.
Religious leaders from Christianity, Islam, Judaism, Buddhism and an inter-faith group have issued declarations stressing the need to limit emissions, and how much is at stake if that doesn't happen. A Hindu declaration is expected soon.
There is, of course, good reason to worry. The UN climate conference at Paris, called Conference of Parties (CoP) 21, is widely considered to be the most important climate conference so far.
It hopes to get countries to agree to limit emissions enough to keep global temperature rise under 2 degrees Celsius.
Crossing this limit would cause sea levels to rise (submerging several island nations and coastal areas), increase the frequency of storms, droughts and floods, and spell doom for humans and several other species.
In these declarations, religions have framed the climate problem based on their theology. They have used holy texts to highlight the role of believers in making a change.
Dwindling hope in traditional policy
Bridging religion with environmental concerns in not new. The International Union for Conservation of Nature, a United Nations recognised body, has been highlighting the role of sacred sites in conservation. Such sites are common in the Indian subcontinent as sacred groves or as natural areas around shrines.
Some religions have issued climate declarations before. What is new is the unprecedented wave of support from across the spectrum. Many of these declarations emphasise that the problem is universal, and appreciates similar efforts undertaken by other religious leaders.
These declarations also provided a fresh focus on moral foundations behind reaching a climate deal.
Of course, it is not clear how many persons practising each faith endorse these declarations. Many may disagree, or agree and continue to act in ways that cause climate change.
Yet, it is a telling sign of the dwindling hope in climate negotiations, and skepticism over finding consensus using typical policy tools - taxes, financing and carbon permits.
Across the spectrum, they appeal for a deal based on the moral obligation of humans as stewards of nature, and not just as profiteers.
Here are some of the declarations made by the world's biggest religions.
The Pope has been outspoken about the need to prevent harmful climate change (Read more).
In June, he wrote an encyclical (a letter sent by the Pope to priests of the church worldwide) that stressed on reining in human activity that causes climate change.
The 198-page letter cites scientific evidence from the Intergovernmental Panel on Climate Change and is openly critical of carbon trading. Calling it a 'quick and easy solution', and a 'ploy' to continue excessive consumption, the Pope said it does not help make "the radical change which present circumstances require".
The Islamic Declaration was endorsed by academics and clerics from around the world at a conference on 19 August. It quotes passages from the Quran to justify maintaining balance in nature and the role of humans in being stewards of nature.
"We recognise the corruption (
fasa€žd
) that humans have caused on the Earth due to our relentless pursuit of economic growth and consumption," it says.
It directly addresses oil-producing nations, many of which are Islamic states in West Asia. Concerned that two-thirds of fossil fuel reserves are still unexploited, the declaration calls on these countries to "re-focus their concerns from unethical profit from the environment, to that of preserving it and elevating the condition of the world's poor".
The upcoming declaration is still at the draft stage. It is being coordinated by the Oxford University's Centre of Hindu Studies.
The centre, through its Bhumi Project, is seeking support from various organisations, including ISKCON, Swami Chidanand Saraswati of the Parmarth Niketan Ashram in Rishikesh and the Brahma Kumaris.
A similar declaration was made back in 2009, although with different patrons. It, too, paid attention to lifestyle changes.
"[Hindus] can and should take the lead in Earth-friendly living, personal frugality, lower power consumption, alternative energy, sustainable food production and vegetarianism, as well as in evolving technologies that positively address our shared plight," it said.
The declaration was released in May by 65 persons from various Buddhist organisations and temples.
It cites 'four noble truths' of Buddhism to point out that 'the threats and disasters' of climate change are caused by the human mind, and therefore "require profound changes within our minds".
It also criticises the notion of perpetual economic growth, asking instead for an economy that sustains the biosphere while maintaining a 'satisfactory standard of living'.
The declaration also urges sustained campaigns from citizens, in case political leaders do not reach a satisfactory climate deal.
Last week, 409 rabbis issued a letter calling for 'vigorous' action to prevent climate change. It also quotes scientific evidence of the ongoing impacts of climate change, including species loss, and demands "eco-social justice" as a way forward.
There is a lot of detail on what businessmen should do. It asks followers to "Move Our Money from spending that helps these modern pharaohs burn our planet to spending that helps to heal it".
This includes moving funds away from fossil-based businesses, and introducing incentives to move 'beyond a carbon economy'.
There have also been calls from inter-faith groups, most famously the Lambeth Declaration released in June. An initiative of the Church of England, the document was endorsed by leaders from England representing various faiths, including Judaism, Zoroastrianism and Sikhism.