Uttarakhand High Court order on releasing man-eaters baffles officials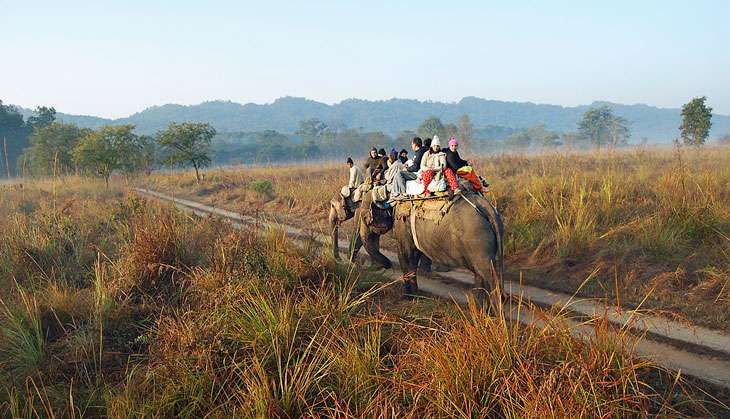 The Uttarakhand High Court on Tuesday ordered a complete ban on the killing of wild animals and declaring them 'man eaters' in the state.
A division bench of justices Rajiv Kumar and Alok Singh stated: "No wild animals, including tigers, leopards and panthers, shall be declared man eaters/rogue and killed in the entire state of Uttarakhand. Dead body of wild animals shall not be displayed in print media, electronic media including television."
It went on to add that the wild animals who pose threat to human beings shall be captured, and "be thereafter released in nearby forest/jungle or alternatively, can be kept in zoo temporarily and thereafter, be released in their own habitat."
Experts baffled
The order by the High Court has baffled wildlife experts and government officials, who have raised questions over the 'applicability' of these suggestions at the ground level. A senior state forest official, on the condition of anonymity, raised many objections on the order, and said that the forest department would internally deliberate on this issue.
"We will approach the court after internal discussions and put forth our views, which are likely to raise questions about the implementation of these recommendations and their practicality," he said.
Raising strong objections on the court's directive of releasing a man-eating tigers or leopards back into the wild, the senior forest official pointed out how certain situations warranted immediate response, not only to protect humans, but also other wild animals.
The forest official added: "If someone has lost a family member, they would target other wild animals of the same species to vent out their anger. Capturing the animals and sending them to the zoo is fine, but there are multiple issues with them being released back into the wild."
Even the Ministry of Environment and Forests and Climate Change is closely reviewing the court order. A senior ministry official, on the condition of anonymity, said that Uttarakhand's Chief Wild Life Warden (CWLW) has been asked to review the order, and he would soon be sending his report.
"There are lot of issues with the order. Some of the guidelines issued by the court go against the rules laid out by the Wildlife Protection Act. Moreover, if an animal has killed and eaten humans, then you have to declare that animal a man-eater and he should be captured and killed if it poses a threat to human lives," he said.
He went on to add that the responsibility of the forest department is to strike a balance between conservation and welfare of communities living in and around protected areas.
Dr NVK Ashraf, head veterinarian at the Wildlife Trust of India, pointed that such an animal strictly needs to be released in a habitat with no human presence, to avoid any conflict situation.
"But where would you find such a habitat in India? It's next to impossible," he said.
Experts believe such a move would ensure backlash from the public, who would not want such an animal to be released in a nearby forest. Ashraf went on to add that the court order goes against the Wild Life (Protection) Act, 1972, and that declaring any animal a man-eater is the sole prerogative of the CWLW as directed by the Act.
No construction, except a wall around Corbett
The High Court has further ordered that an area of 10 km around the Corbett National Park and other protected areas to be declared as eco-sensitive zones, putting a ban on all construction activities there. Additionally, the court asked that a stone wall be erected around Corbett to control forest fires.
These guidelines by the court, too, have come under severe criticism, with wildlife experts labelling them as going against the very principle of conservation.
They argue that constructing a wall would stop the dispersal of wild animals from national parks to adjoining forest areas, which is crucial to maintaining a healthy gene pool.
"Wild animals, including tigers, leopards, elephants, among others, use forest corridors to move to other forested areas to establish new territories or in search of food. Corridors help in exchange of wild populations that prevent negative effects of inbreeding. Erecting a wall would lead to the islandisation of national parks, which could wreak havoc on wildlife on a longer run," said the Uttarakhand forest official.
Even the court's directive to ban all construction is being labelled as anti-people, and experts believe that it will further anatagonise the locals, who already have been at loggerheads with the forest department for decades.
"I am against blanket bans. We have been trying to turn locals into stakeholders in conservation, but this order disturbs that equation," said an official posted at Corbett.
However, Dr Rajesh Gopal, former member secretary, National Tiger Conservation Authority (NTCA), welcomed the decision, and said it would put a stop on all construction activities by resort owners and private operators, who have literally "blocked passage of animals from Corbett to Ramnagar Forest Division".
Resorts threaten survival
Earlier, in 2010, a Ministry of Tourism report on Corbett had highlighted how more than 102 resorts in the park are threatening the very survival of wild animals. Most of these resorts brazenly flout all environmental rules, and posing a deadly threat to all life forms.
Back then, the report reckoned that Dhikuli, on the eastern part of the Corbett Reserve, had more than 65 resorts, while several others were under construction. These resorts blocked the precious Kosi wildlife corridor that connects the Corbett Reserve to Sitabani and other forests in the Ramnagar Forest Division.
Overall, experts suggest that these directives are hard to apply at the ground level, and lack practicality. And, it is likely that the state government will approach the HC to address its concerns and objections.
Edited by Shreyas Sharma
More in Catch
Corbett tigers are getting poached at an alarming rate
Tiger tourism is an amazing experience. It just needs proper monitoring
International Tiger Day: In India, 2016 may see highest tiger poaching in over a decade