Bitter experience: why India's beekeepers are protesting against GM mustard
Catch Team
| Updated on: 7 February 2017, 1:21 IST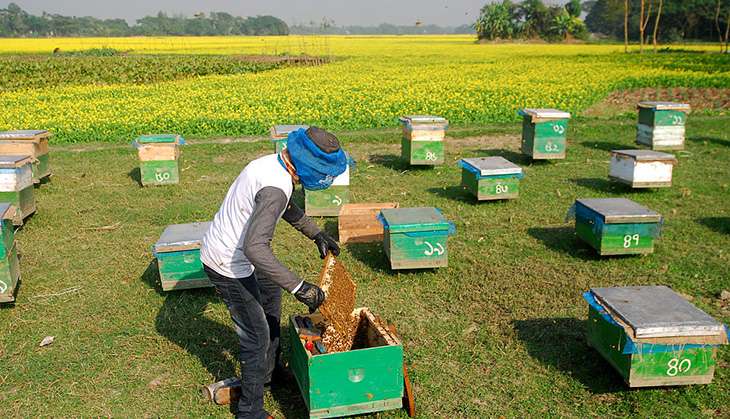 Beekeepers and honey exporters will hold a protest at Jantar Mantar on 28 September against the introduction of genetically modified mustard. Nectar and pollen from mustard flowers account for nearly 60% of the honey produced in India, according to the Confederation of Beekeeping Industry.
The confederation was formed in August in response to the possibility of GM mustard being introduced in India.
The environment ministry, which will take a final call on commercialisation of GM mustard, has sought comments from the public on the bio-safety and other assessments prepared for the crop.
Also Read: Did Modi govt buckle under Monsanto pressure on Bt cotton?
In a press statement released today, the confederation said the proposal to introduce GM mustard has created "severe apprehensions" because of the poor experience with the only other GM crop being cultivated - Bt cotton. "After the advent of Bt cotton, beekeepers lost a whole crop that used to exist for them for honey production during the kharif [season]. First it was a reduction in honey and later of the bees themselves," the statement said.
The confederation wants the government to test the impact of GM mustard on bees. They want the government to make the bio-safety dossier public as well as extend the time to respond to it to 120 days from the present 30 days.
The environment ministry had, on 5 September, said the dossier could be accessed at its office in New Delhi by prior appointment. It has asked for public to send responses by 5 October.
"If the government has safety data on bees, then they should share it with us. We are not against GM crops," said Amit Dhanuka, the CEO of Kejriwal Bee Care India, which he claims exports about 10,000 metric tonnes of honey a year, about a third of India's total honey exports.
Dhanuka said his and other firms, which together account for 90% of India's honey exports, have formed a Honey Exporters Association of India, which is also against the introduction of GM mustard without a scientific assessment of its impact on bees.
Also Read: Govt hiding GM crops data because it knows it's rigged: Kavitha Kuruganti
This is because the European Union, one of the key importers of Indian honey, has banned the import of GM-based honey. It had previously banned honey extracted from genetically modified canola, a variety of mustard, grown in Canada, Dhanuka said.
Subhash Kamboj, a beekeeper from Yamunanagar district in Uttar Pradesh, said while apiaries near natural cotton fields yielded over 20 kg of honey per box, it dropped to zero after the introduction of genetically modified cotton. "We don't keep our boxes where Bt cotton is sown. Even wild bees have abandoned Bt cotton fields," he said.
Devrat Sharma, a beekeeper who is an elected member of the National Bee Board, said, "We produce around 90,000 metric tonnes of honey in India, out of which around 35,000 metric tonnes is exported, with an estimated value of Rs 750 crore. It is important to note that 50-60% of the total production of honey in India is mustard honey. Mustard, therefore, is a very important crop for the industry. Any permission to GM mustard will seriously jeopardise this sector."
Also Read: India may pay a huge price for adopting GM crops. Here's why