Narayana Murthy refutes Infosys board: 'I'm not seeking money, power for children'
Catch Team
| Updated on: 18 August 2017, 18:33 IST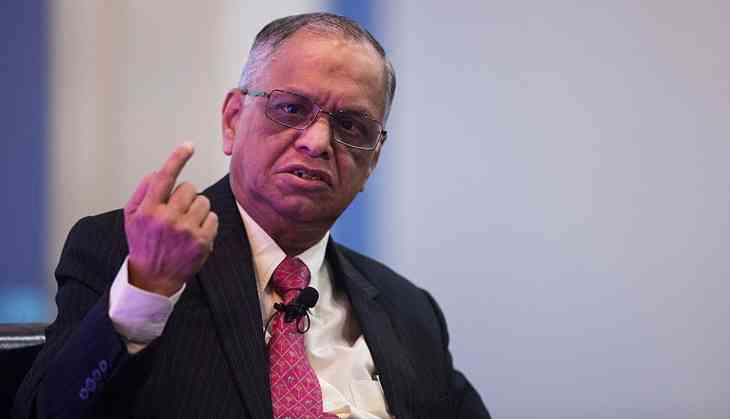 (Jerome Favre/ Bloomberg via Getty Images)
After the board members of India's second largest software company, Infosys, blamed former chairman and co-founder Narayana Murthy for the resignation of its incumbent CEO and MD Vishal Sikka, the veteran hit back at the company. He said that he was not seeking any money or position for his children.
On Friday morning, the company's board issued a statement alleging that Murthy had repeatedly made "inappropriate" demands, which are inconsistent with his stated desire for stronger governance and that his "campaign" has intensified over time.
A co-founder of Infosys, Murthy had retired three years ago. For the last few months, he had been actively campaigning against the Infosys board for overlooking corporate governance issues and not being transparent in deciding the severance package of senior executives.
In a statement released hours after the resignation of Vishal Sikka, Murthy said "I have read the statement issued by the Board of Directors of Infosys. I am extremely anguished by the allegations, tone and tenor of the statements. I voluntarily left the Board in 2014 and I am not seeking any money, position for children or power. My concern primarily was the deteriorating standard of corporate governance which I have repeatedly brought to the notice of the Infosys board."
The statement further added, "It is below my dignity to respond to such baseless insinuations. However, several shareholders who have read the whistle-blower report, have told me that it is hard to believe a report produced by a set of accused, giving a clean chit to the accused, and the accused refusing to disclose why they got a clean chit! They say that this is not the way an impartial and objective investigation should be held."
It was in February this year, when the founders of Infosys flagged concerns over transparency and corporate governance in the company questioning the compensation package of Chief Executive Officer (CEO) Vishal Sikka and the severance package for its former chief compliance officer David Kennedy.
The founders had also asked company's management to show how the company would achieve the $20-billion target by 2020, in an uncertain global environment.
Since then, Murthy had flagged many issues within the company, forcing Sikka to finally quit the company on 18 August.