Indigo's IPO is a hit. What makes the airline fly high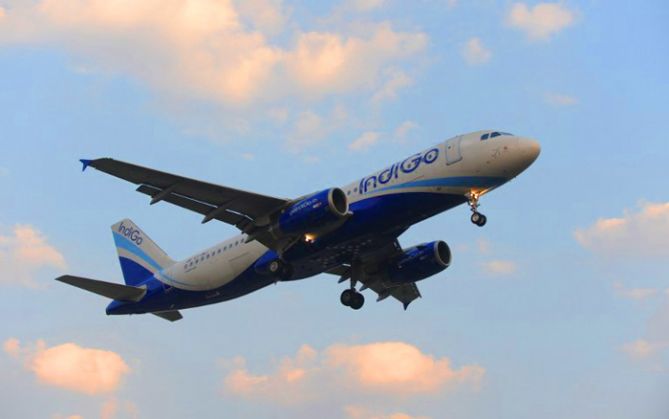 Successful offering
IPO of Indigo\'s parent company oversubscribed in 1.5 days
It was the largest IPO in 3 years
Successful company
Indian aviation sector hasn\'t really done well
Indigo bucks the trend, by being continuously profitable
More in the story
What are the things that makes Indigo work
What are the risks that the company faces
At Rs 3,018 crore, the initial public offering of InterGlobe Aviation - the company behind no-frills carrier Indigo - was the biggest in three years. And it was lapped up in one and a half days.
With about half a dozen airlines being grounded since 1992, the Indian aviation sector hasn't really been a showcase sector. Both Indian as well as multi-national conglomerates have tried their luck in the Indian skies only to realize that it's near impossible to fly for long without government subsidy.
What then makes the Indigo IPO such a success? Well, the airline has been sort of an antithesis to the Indian aviation sector.
The draft red herring prospectus - a document that lays down the operational details of any company dishing out an IPO - throws some light: Inter Globe has been making profits since 2009.
Compare this with the financial statements of Naresh Goyal-owned Jet Airway: it lost Rs 7,201 core in between financial years 2012 and 2015, ended March 31. Spice Jet, another budget carrier, was no different. It posted a loss of Rs 1,799 crore between the years ended March 2012 and March 2014.
Indigo's formula for profit
Indigo Airlines took off in 2006 with 97 Airbus A320s. A single-model fleet helped it operate with fewer specialised engineers and maintenance staff. Spice, on the other hand, operates both Bombardiers and Boeings.
The most important and advantageous features of the journey of Indigo so far has been that the company could place a massive $11 billion order for 100 aircraft even in 2005.For any other airlines it would have been impossible, especially with a promoter's capital of just $82 million.. But industry experts say that it was the goodwill of the co-founder Rakesh Gangwal who was a veteran in the industry and knew Airbus management when he was associated with the likes of US Airways, Air France and United Airlines.
A young fleet, quick turnaround, neat profits... What makes Indigo buck Indian aviation trends:
Placing bulk orders for aircraft has worked economies of scale in favour of Indigo. Even before the delivery of its first order, the company placed another 180 aircraft order with Airbus in June 2011.
Last August, IndiGo placed the biggest ever order of 250 Airbus A320neo. One can imagine the kind of discounts it would have secured. The delivery of the recently placed orders would be completed by 2023.
None of the other competitors of Indigo have been able to make such large purchases to draw cot advantage.
Young fleet
Indigo has the youngest fleet of aircraft in the Indian industry. The average age of its aircraft is just 3.26 years, against the industry standard of above six years.
The company goes for six-year sale and leaseback agreements for its planes. After that, the lessor takes back the planes, freeing up the airline to induct a brand new aircraft at an additional cost. This model is starkly different from the maximum use policy of other airlines.
Indigo claims that this strategy has let it avoid 'D' checks, where it has to be taken off services for 60 days for major repairs.
Less time more flights
Indigo has worked the industry's best turn-round time for its flights. While others take between 35 and 50 minutes for turning their flights around, Indigo achieves that in 25-30 minutes.
This has helped the company achieve an aircraft utilisation time of 11.4 hours per day. However, this kind of efficiency has come with a fare amount of risk that the company has undertaken.
Indigo operates a point-to-point route network with no interlining or code-sharing with other airlines for passenger traffic, which helps reduce turnaround time.
Not having any connecting flight with any other airline puts extra pressure on Indigo to expand its customer base. But it saves the company from sharing the inefficiencies of other airlines, especially delayed flights.
The road ahead?
That Indigo has been profitable for five yeas should boost investor morale. But the company's current valuation is vulnerable to any spike in aviation fuel price.
In August, the price of aviation turbine fuel (ATF) hit a four-year low of Rs 46,407 per kilolitre due to a global supply glut. Sooner or later, however, ATF prices will climb up, denting the profitability of companies like Indigo.
However, going by the company's past performance, any future spurt in ATF fuel prices looks more of a concern for Indigo's peers.
Will this open the gates for other aviation IPOs?
Analysts are thrilled looking at the valuation of Indigo's IPO. Kapil Kaul of Center for Asia Pacific Aviation says the offering would be crucial for the aviation sector, and could encourage GoAir to come out with a public offer. He also expects SpiceJet to raise capital.