BHIM app launched: We might just have a replacement to Paytm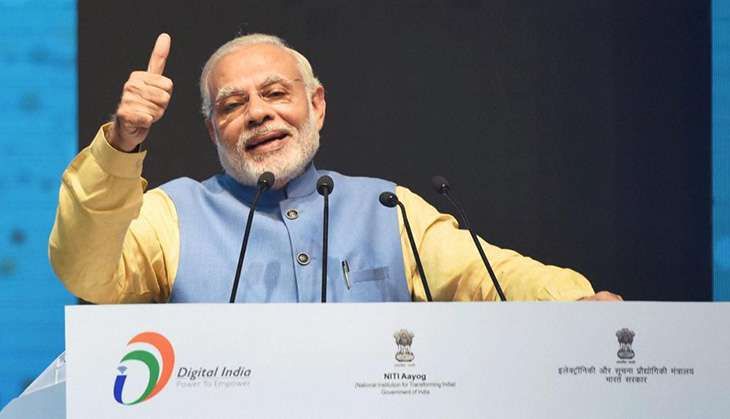 Prime Minister Narendra Monday launched the Bharat Interface for Money (BHIM) app on Friday, 30 December. The app lets users make payments using the Unified Payment Interface. The app aims to make digital transactions across the country as easy as possible for the common man. The app enables transactions to happen within seconds.
"Bharat Interface for Money is an app that lets you make easy and quick payment transactions using UPI. Its easier than Wallets! You will not have to fill out those tedious bank account details again and again. You can easily make direct bank to bank payments and instantly collect money using just Mobile number or Payment address," reads the description on the website.
The app is available for both Android and iOS (Apple) now. It lets the user pay and receive money with zero processing fee. As the website's FAQ says, "Your bank might however levy a nominal charge as UPI or IMPS transfer fee which is not under our control. Please check with your bank for more details".
30 banks - including SBI, HDFC, ICIC and Standard Chartered - are listed in the app. If you search for the BHIM, NPCI, BHIM UPI, or some other combination, you're more than likely to end up with Chhota Bheem apps. Once you find the app, you realise that it is only 1.8mb in size!
Google Play Store
Installation process
The installation process is over within seconds. You select your preferred language (for now, only English and Hindi, hopefully regional languages in due time) and then creae a four-digit password, which you will be asked to enter each and every time you log in.
Then you enter your mobile number and the app automatically figures ou which bank your mobile number is linked to. Within seconds the data is fetched. The catch here is that you can only link one bank.
How do transactions happen
The first and foremost rule for a transaction to happen is that both the sender and receiver must have an account with a bank that has UPI enabled. The second rule is that the seller must have an smartphone. The purchaser need not have a smartphone but must have his/her mobile number linked with the account and the app with automatically fetch that users data.
Sending and receiving money
Sending money is a painless process as long as you have your UPI PIN setup. Click the send money button, enter the receiver's mobile number or payment address and then enter the amount you want to send. Finally, enter your UPI PIN and click send. If you don't have a UPI PIN then you can create one from the Bank Accounts option in the Main Menu.
Alternative, one can scan a QR code and pay 'via the 'Scan & Pay' option'.
The Curious Case of The Ratings
Within a few hours of BHIM's app launch, the app has received 3,949 reviews with a 4 and a half star rating, Some of the reviews are as follow:
"Excellent initiative undoubtedly.. needs a few immediate improvements"
"Now this is a very significant development but hascomewith an unacceptable delay. This app should've been launched way back in Nov..."
"Good App. My old ICICI account linked directly using mobile number & amount transferred easily from other banks... Just there is a restart issue. After closing the app; it didn't restarts fast"
"I hope this will help in making cashless India. I needs some improvement"
"This is a very good app works fine but can't add my RRB account...."
All of these reviews while starting out positive, go on to say things that need improvement. Yet, each and every one of these reviews are 5 stars.
Website FAQ versus Google Play Store and iOS
On The Google Play Store, the app says that it is compatible with Android version 2.3.3. (Gingerbread) and up. The problem here is that the FAQ on the BHIM website directly contradicts that. "Bharat Interface for Money app is currently available on Android (Version 8 and above) and iOS mobiles (Version 5 and above). We will be making our app available on other platforms very soon."

First and foremost there is no Android 8. The latest version is Android Nougat. The latest Nougat version released (which most phones don't have yet) is 7.1.

Coming to iOS (Apple iPhones), the app isn't available yet. Any search for BHIM, BHIM UPI, NPCI, National Payments Corporation of India and nothing comes up. Clearly, the website and the actual app differs.On The Google Play Store, the appAndrid version 2.3.3. (Gingerbread) and up. The problem here is that the FAQ on the BHIM website (

Andround Nougat. The latest Nougat version released (which most phones don't have yet) is 7.1.
After installation problems
Upon installing the app, sending and receiving money was a breeze. Close the app and that's where the problems begin. A colleague and I tried for thirty minutes with no luck. The app just wouldn't restart. It was stuck on the launch screen and seemingly would never progress from it.
Final thoughts
While the app has a long way to go in convincing the Indian user to switch over from their choice of e-wallets, it has a lot of potential. For one, it can link a bank account seamlessly, and even switch over to another bank without any problems. The second advantage is for those that don't have a powerful smartphone. This app doesn't hang unlike that of its direct competitor Paytm. All in all, this is a good initiative but as we all know, only time will tell if it is a success.
With inputs from Vishakh Unnikrishnan