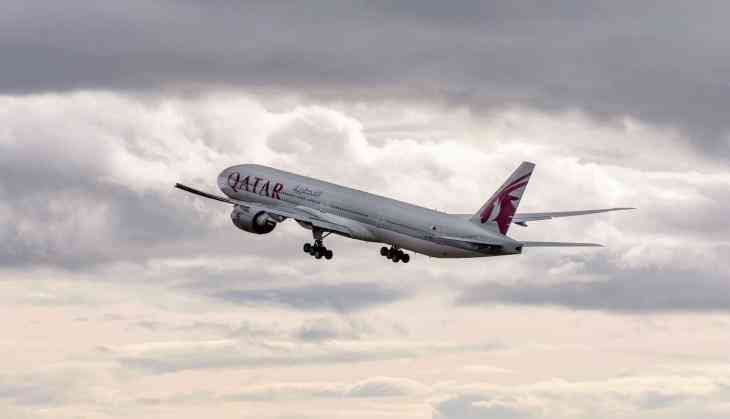 What would you do, if you find out that the one you love has been cheating on you for a long time? And especially if you are 37,000 feet above the ground. Well, one will think about first reaching to the ground and then they can talk about the issue in details.
But an Iranian woman, who was flying from Qatar Airways' Doha-Bali nonstop flight this Sunday (November 5), created an uproar in the flight after she found out her husband has been cheating on her.
Due to the chaos, the flight was diverted to Chennai. And after dropping the couple at Chennai airport the Boeing 777 operating Qatar Airways' flight QR 962 continued its non-stop journey to Denpasar Bali.
During the flight, the woman unlocked her sleeping husband's phone by using his finger scan, after unlocking his phone, the Iranian woman found out that he has been cheating on her after that she created ruckus in the flight. In the beginning, her anger was towards just her husband but after the co-passenger started to interfere they too became the target of her anger.
Since the reason behind diversion in flight was not for security reason and the airport authorities found woman's reasoning good enough they kept the family at the airport.
While talking about the duo an insider said, "They were taken to a room maintained by immigration authorities at Chennai airport."
While talking about the couple the authorities said, "On November 5, around 10 am, Qatar Airways flight QR-962 (Doha-Bali) was diverted to Chennai."
"A lady along with her husband and a child, all Iranian nationals, were offloaded by Qatar Airline as the lady passenger, who was intoxicated, misbehaved with crew members in the flight. They were sent to Kuala Lumpur by Batik Air flight 6019 for further travel to Doha," the official further added.
"In respect of passenger privacy, we do not comment on individual cases," Qatar Airways said in its official statement.