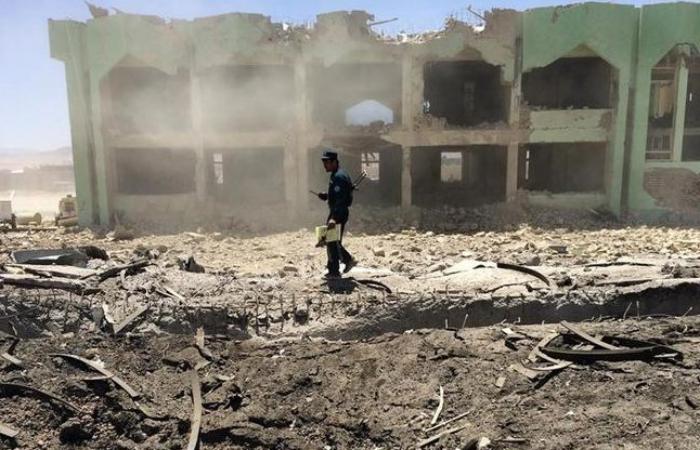 -Indian interests in at least five Afghanistani cities have been attacked in the past ten years, claiming hundreds of lives-Despite India\'s contribution to redevelopment in Afghanistan, attacks continue-Pakistan unhappy with Indian involvement in Afghanistan
With the latest blast reported near the Indian Consulate in Jalalabad, Afghanistan, this afternoon, 2016 is definitely off to a grim start. The Indian Consulate in Afghanistan's Mazar-e-Sharif was under siege for over 24 hours. The gun battle finally ended on Monday night, with all the attackers being neutralised. Fortunately, there were no casualties within the Consulate.
Six incidents in 10 years
The latest incident brings to light the fact that India continues to remain a high-value target for insurgents in Afghanistan. The Mazar attack on the Indian mission stands testimony to the increasing threat to Indian interests in Afghanistan. It is the sixth such incident in the last decade, increasing in frequency over the last couple of years.
Early in 2015, a Taliban attack on a Kabul guesthouse frequented by Indian expats left five dead, including two Indians. In May 2014, the Indian consulate in Herat faced a similar assault, which led to several casualties. Another suicide bomber was captured that year near the Indian consulate in Kandahar city. And in August 2013, at least nine people were killed in an ambush on the Indian consulate in Jalalabad city.
Kabul not spared
The Indian embassy in Kabul is no stranger to attacks either. In 2009, a suicide bomb attack on the embassy compound left 17 dead and over 60 people injured. A year earlier, in 2008, suicide bombers left about 50 dead at the gates of the Indian Embassy.
Is it Taliban or the Haqqani network?
While the Taliban has claimed responsibility for most of these attacks, officials believe that they are co-ordinated efforts between the Haqqani network and Al Qaeda-linked groups. Interestingly, these attacks have been carried out by insurgent factions that Indian officials strongly believe have ties with the Pakistani intelligence agency.
Attacks despite India's 'gift' to Afghanistan
These attacks come at a time when India has stepped up its role in Afghanistan's redevelopment. Not too long ago, Prime Minister Narendra Modi inaugurated the new Afghan Parliament which was built by India as a gift to Afghanistan. India has undertaken other similar projects such as the reconstruction of the Selma Dam in Herat province that will produce an estimated 42 megawatts of power as well as provide irrigation to 75,000 hectares of farmland, at a cost of $300 million to the Indian treasury.
Going beyond the usual stand against providing defence support, India has supplied Afghanistan with military helicopters and training, in recent years, although India still does not facilitate requests for lethal weapons. In fact, the total aid provided to Afghanistan has significantly increased since 2011.
Pak unhappy with Indian involvement in Afghanistan
Of course, a secure and stable Afghanistan is greatly in India's interest. However, this increased engagement with Kabul has often been at the displeasure of other powers operating in the region, primarily the Taliban. Pakistan too has expressed discontent over Indian involvement in Afghanistan.
In his interview with Catch News, last month, former ambassador Amar Sinha refuted such claims, saying, "The Pakistani narrative of increased Indian involvement in Afghan affairs has not been confirmed by facts on ground or by the Afghan government."
However, he did elaborate why relations between Delhi and Kabul would discomfort Pakistani authorities. "The rest of the world will find it very difficult to understand why Pakistani policies support anti-government forces in Afghanistan. But the rest of the world is also very aware of the dispute between India and Pakistan. So perhaps linking their policies to that dispute, from the Pakistani perspective, makes their job easier," he commented.
'We all know Taliban's address'
Sinha further asserted Pakistan's affinity with the insurgent group responsible for many attacks in Afghanistan. "There is no denying where the Taliban is operating from. It has an address, and we all know where that it. We can even get letters delivered to that address."