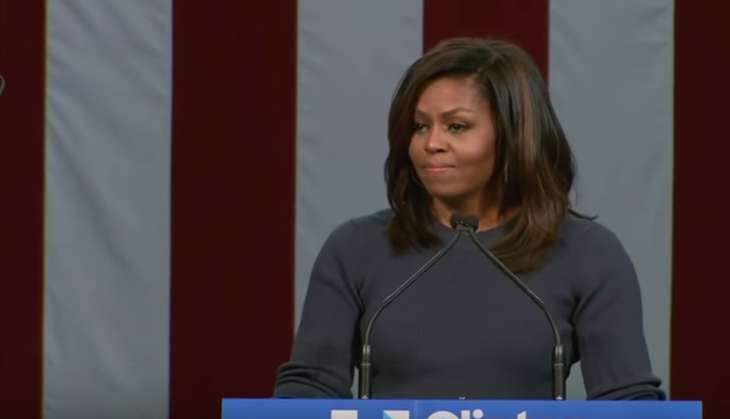 The director of a West Virginia development group and a mayor saw themselves on a receiving end after referring to first lady Michelle Obama as "an ape in heels".
According to a report in Washington post, soon after Donald Trump was elected as President of United States, Clay County Development Corp director Pamela Ramsey Taylor posted about Michelle Obama saying, "It will be so refreshing to have a classy, beautiful, dignified First Lady back in the White House. I'm tired of seeing a Ape in heels."
Responding to Taylor, Clay Mayor Beverly Whaling said, "Just made my day Pam."
The post drew flak from a number of people on social media with the users terming the remark as a "racist" message. Even though the post was deleted soon after the backlash, it was shared by thousands on social media.
Seriously, #PamelaRamseyTaylor and #BeverlyWhaling, did you think that you could make these kinds of vile remarks and get away with it? pic.twitter.com/UD2EAwzNwi

— Turn Tennessee Blue (@TurnTNBlue) November 14, 2016
#PamelaRamseyTaylor is the exact product of the hate that @realDonaldTrump has created in America. Racism out in the open. Shameful.

— Kimberly (@kimrc11) November 14, 2016
Shame on you ! #PamelaRamseyTaylor https://t.co/bFneEe3QDg

— Shayne Haridas (@ShayneHaridas) November 15, 2016
#pamelaramseytaylor #beverlywhaling Own your hate instead of playing victim. Your words speak for themselves. You are disgraceful.

— Jim Parker (@JParkerSD46) November 14, 2016
#Beverlywhaling I hope U lose your job, both you and #pamelaramseytaylor are unfit to govern ANY agency. #disgusting #apologiesnotenough

— Mary Quigley (@excugoaway) November 14, 2016
#PamelaRamseyTaylor Our #Flotus is one of the most beautiful, dignified woman who have ever hold the post. This woman is a racist disgrace.

— Deb R (@debra_rohrer) November 14, 2016
#PamelaRamseyTaylor is an undignified, unclassy racist

— Nina Thornsburg (@NinaThornsburg) November 14, 2016
Both of them have reportedly extended an apology saying that they never meant to be a "racist".
"My comment was not intended to be racist at all. I was referring to my day being made for change in the White House! I am truly sorry for any hard feeling this may have caused! Those who know me know that I'm not of any way racist! Again, I would like to apologize for this getting out of hand!," Washington Post quoted Clay Mayor Beverly Whaling as saying.
Meanwhile, Pamela Ramsey Taylor, has reportedly been removed from her directorial position.