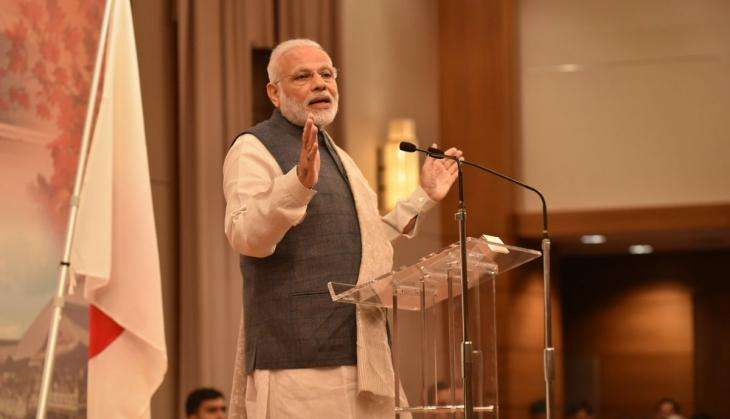 Prime Minister Narendra Modi who is on a three-day visit to Japan for the annual India-Japan bilateral summit, met the Indian community in Kobe and spoke about demonetisation in India.
Starting his address, PM Modi said Kobe helped Gujarat during the 2001 earthquake and he is thankful to them for doing so. Talking about curbing black money and demonetisation, he said that personally for him, FDI mean 'First developed India'.
Even while the common man is reeling under the weight of demonetisation and lack of planning, PM Modi said he is thankful to the people for showing patience and accepting the change ("Desh ke gareebon ne ameeri dikhayi, ameeron ki gareebi toh bohot baar dekhi hai.")
#WATCH: PM Narendra Modi on scrapping of Rs 500/1000 notes, says "was important to keep it a secret, couldn't share it with anyone" pic.twitter.com/qbYyegw8CV

— ANI (@ANI_news) November 12, 2016
#WATCH: PM Narendra speaks in Japan on scrapping of Rs 500/1000 notes, says "salute countrymen for supporting the decision" pic.twitter.com/vjVc2bkurW

— ANI (@ANI_news) November 12, 2016
Reiterating his initiative to curb black money, PM Modi asked the Indian community, "Chori ka maal nikalna chahiye ya nikalna chahiye?" (Should we not bring out stolen money?). Supporting his own point, he stated that earlier nobody would donate even Re.1 in the sacred Ganges, but now Rs 500 and Rs 1,000 notes are floating in the holy river.
"This is the biggest Swachhta Abhiyaan and nobody will be troubled by this initiative. Till 30 December, there will be no trouble caused to anyone. Everything that is yours, you will get it. Will check records since Independence. If I come across unaccounted cash, no body will be spared."
PM concludes address to the community. My fellow countrymen, your achievements abroad make our hearts swell with pride pic.twitter.com/GIPgshu3Gz

— Vikas Swarup (@MEAIndia) November 12, 2016