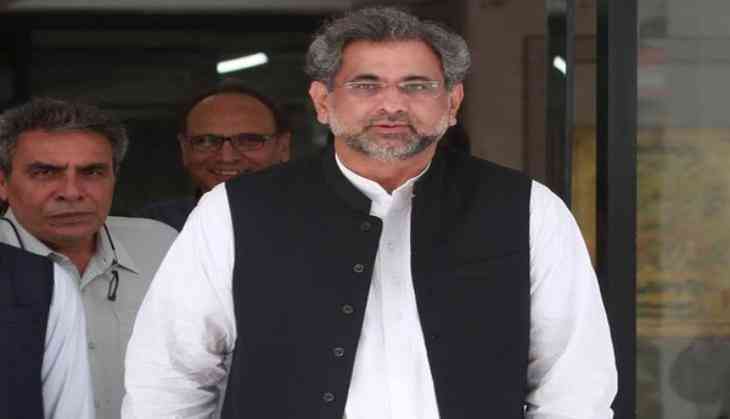 A shocking incident has happened with Pakistan's Prime Minister Shahid Khaqan Abbasi at New York's JFK airport during his US visit. Yes, you read right, Pak PM has gone through the security check at the airport.
A footage of this incident has been shown by the Pakistani television channels and also doing the rounds on the social media. In the viral video, Shahid Khaqan Abbasi, who is seeing to walk out from the security check just like an ordinary passenger by carrying his bag and coat. The video has been titled as a 'major embarrassment' for the country by much of Pakistani media.
See what Pakistani media said in the video:
As per the Geo news reports, the Pak PM was in the US last week on a private visit and also to meet his sister. At the airport, he has to follow the standard protocol for all the passengers at the airport.
During the same visit of Pak PM to the US, he reportedly met with Vice-President Mike Pence also. The US has said to Pakistan that the country has to tackle the terrorism and remove it from its soil anyhow.
However, PM Abbasi has been criticized by some media for going through what they call a humiliating process for the head of a nation despite a diplomatic passport.
On social media, netizens also reacted on the issue in this way. Check out their reaction:
PSL Ko IPL se better bnane ke chakkar me Pakistan ke PM ko Kapde utarne pad gaye 😂😂😂 pic.twitter.com/NuooplDimi

— अभिव्यक्ति की आजादी (@Man_ki_azzadi) March 28, 2018
Earlier, US government under Donald Trump had taken a serious step against Pakistan, including the visa bans. Now, this incident has occurred with the Pak PM.
Well, it's clear that rules are equal for everyone be it is the Prime Minister or the common man.
Also read: 'We want Virat Kohli and Anushka Sharma', say Pakistani fans at Pakistan Super League Season; Here's what Indians said