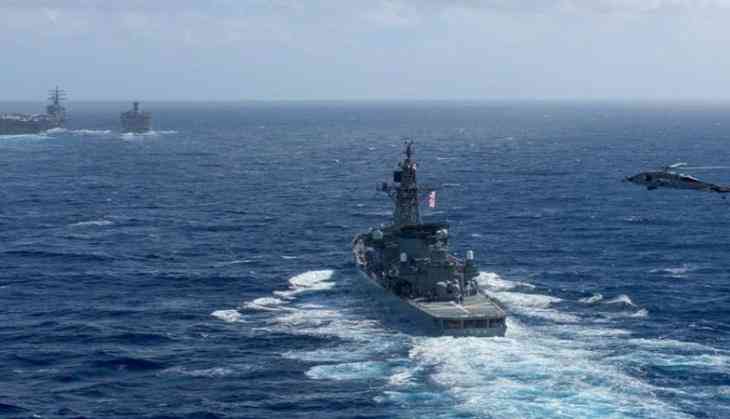 United States and South Korea on 11 November started joint naval four-day drills to warn the North Korea.
The South Morning China Post quoted military officials describing this as a clear warning to North Korea, which involve three U.S. aircraft carriers.
The drills began in waters off South Korea's eastern coast.
South Korean military said it's the first time since 2007 that the three battle groups of the USS Ronald Reagan, the Theodore Roosevelt and the Nimitz have operated together in the Western Pacific.
This came amid the U.S. President Donald Trump's Asia visit, which was largely focused on about the North Korean nuclear threat.
Earlier, Chinese President Xi Jinping and President Trump reiterated firm commitment to achieving denuclearisation of the Korean Peninsula and working towards a solution through dialogue and negotiation.
President Trump is currently on a tour of Asia that has taken him to Japan, South Korea and China so far.
Currently, he is in Vietnam where he took part in Asia-Pacific Economic Cooperation (APEC) Summit.
The APEC summit, taking place this year, is focused on regional trade, with particularly attention on the TPP, the reports said.
APEC brings together 21 economies from the Pacific region.
-ANI