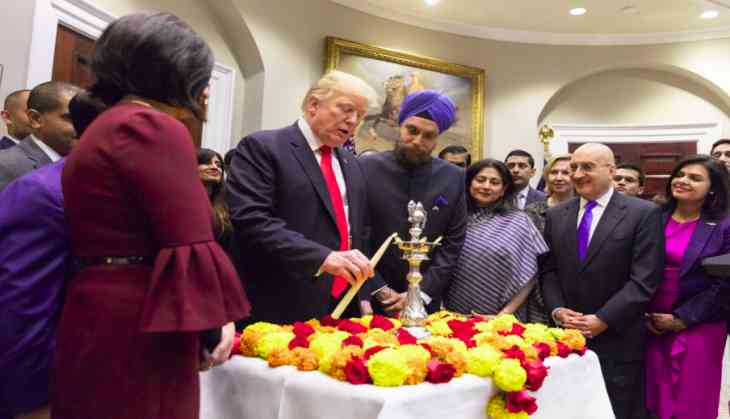 US President Donald Trump has celebrated the India one of the largest festival of India i.e. Diwali in White House on Tuesday. He has celebrated the festival with top Indian-Americans and said he is 'grateful' for his friendship with Prime Minister Narendra Modi.
He also described India as 'good negotiators' while Diwali celebration. Donald Trump has celebrated Diwali in White House for the second time.
He also said that "the United States has deep ties to the nation of India and I am grateful for my friendship with Prime Minister Modi."
He said before lighting the ceremonial Diya in the historic Roosevelt Room of the White House.
Trump also said that the country is trying best to make good deals with India. He added that 'India is very good traders. They're very good negotiators. You would say right. The best. So we're working. And it's moving along. He said while referring to the India-US trade deal negotiations between the two largest democracies of the world.
He took to Twitter and wrote, 'Today, we gathered for Diwali, a holiday observed by Buddhists, Sikhs, and Jains throughout the United States & around the world. Hundreds of millions of people have gathered with family & friends to light the Diya and to mark the beginning of a New Year.'
Today, we gathered for Diwali, a holiday observed by Buddhists, Sikhs, and Jains throughout the United States & around the world. Hundreds of millions of people have gathered with family & friends to light the Diya and to mark the beginning of a New Year. https://t.co/epHogpTY1A pic.twitter.com/9LUwnhngWJ

— Donald J. Trump (@realDonaldTrump) November 13, 2018
He also wrote, 'It was my great honor to host a celebration of Diwali, the Hindu Festival of Lights, in the Roosevelt Room at the @WhiteHouse this afternoon. Very, very special people! '
It was my great honor to host a celebration of Diwali, the Hindu Festival of Lights, in the Roosevelt Room at the @WhiteHouse this afternoon. Very, very special people! https://t.co/kQk7IvpSFo pic.twitter.com/tYlBABg4JF

— Donald J. Trump (@realDonaldTrump) November 13, 2018
-With PTI inputs
Watch Video:
Also read: PM Modi delighted to meet Twitter CEO Jack Dorsey and said, 'I enjoy being on this medium, where I've made great friends'