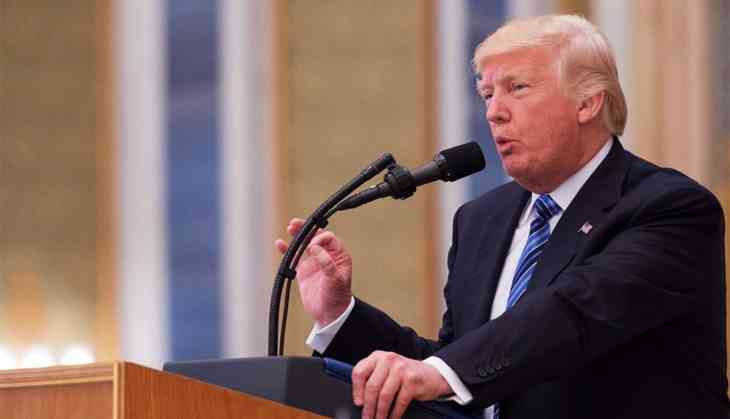 United States President Donald Trump has said he was willing to testify under oath about his conversations with former FBI director James Comey.
"One hundred percent," Trump said when asked about his willingness to deliver sworn testimony, CNN reported Trump, as saying during a Rose Garden news conference.
Trump denied that he had asked Comey for his loyalty, though, adding, "There would be nothing wrong if I did say it."
The President also denied Comey's claims that he asked him to end the FBI's investigation into national security advisor Michael Flynn.
Trump also twice declined to confirm the existence of White House recordings of the conversations.
"I'll tell you about that sometime in the very near future," Trump said.
Trump said his team emerged "very happy" after Comey's testimony, while also offering a blunt assessment of Comey's testimony before the Senate intelligence panel.
"No collusion, no obstruction, he's a leaker," he said.
This development comes a day after James Comey's bombshell Capitol Hill testimony in which the fired FBI director accused the White House of "lies."
Trump officially took questions from reporters for the first time in three weeks, standing next to Romanian President Klaus Iohannis.
The brief news conference, where each President took two questions from the press.
Earlier, Trump fired off an early morning tweet in which he said he had been "vindicated" by the James Comey hearing, adding that the former FBI director was a "leaker."
The tweet broke a mysterious period of silence on social media for the President, who until then had not tweeted since June 7.
On Thursday, Comey had accused Trump of firing him to try to undermine the FBI's investigation of possible collusion between the Trump Campaign and Russia in alleged efforts to influence last year's presidential election.
Comey told the U.S. Senate Intelligence Committee that the Trump administration had lied and defamed him and the FBI after the President dismissed him on May 9.
The more than two hour-long testimony saw Comey further informing that Trump had directed him to drop an FBI probe against former national security adviser Michael Flynn.
Comey said it should be special counsel Robert Mueller's task to determine whether Trump had obstructed justice, and therefore, had opened himself up to possible impeachment proceedings, keeping the allegations on Russia in mind.
He, however, said that whatever Trump did was "a very disturbing thing, very concerning."
Comey painted a picture of an overbearing president he did not trust and who pressured him to stop the FBI probe of Flynn.
Russia has denied interferin in last year's presidential elections, as has the White House.
- - ANI