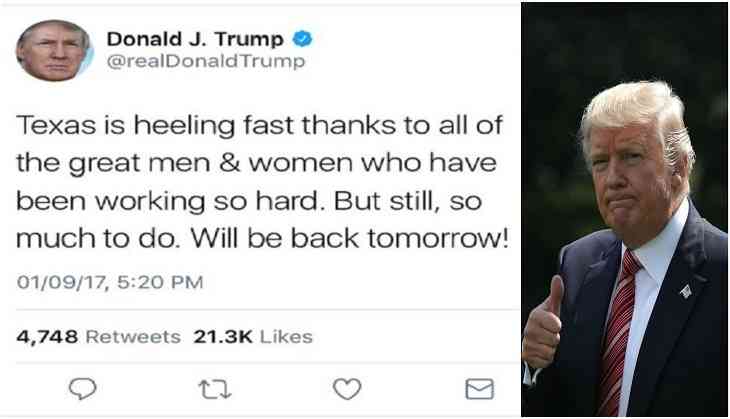 US President Donald Trump had made records in misspelling the words in his tweets and he has done it all over again. In a recent tweet made by the President, he showed his love for 'heels' but in a wrong place and tweet. While thanking the people for helping in Texas, he was informing that the state is 'healing' at a good pace, but it seems as if he had some other heel in mind because he misspelled the word 'healing' as 'heeling'.
Although, the tweet got deleted later but the screenshots of the tweet was circulating all over Twitter and people could not stop themselves from mocking and trolling him. Former Jammu and Kashmir chief minister Omar Abdullah was one amongst the others who did not spared Donald Trump over the tweet and took full advantage of the platform and mocked him.
Mr President you might want to forget the 👠 & hope that Texas heals instead. https://t.co/KJiHNaU3kp

— Omar Abdullah (@OmarAbdullah) September 1, 2017
I knew he'd delete it 😄. Thankfully I kept a screen grab for context. pic.twitter.com/nUwSWvbN3t

— Omar Abdullah (@OmarAbdullah) September 1, 2017
Check out how Tweeple reacted over the same:
It's back! 👠 pic.twitter.com/wlNxRaMgTr

— Ceylan Yeginsu (@CeylanWrites) September 1, 2017
For those who missed it, can't wait to tell my 3rd grader he's a better speller than POTUS. pic.twitter.com/RAhG5pbqqx

— Jonathan Wier (@JonKMBZ) September 1, 2017
September 1, 2017
OH MY GOD HOW HARD IS IT TO USE THE PROPER FORM OF HEAL! YOU ARE THE PRESIDENT!

— Tony Posnanski (@tonyposnanski) September 1, 2017
Heel = your wife's shoes 👠Heal = what we will be doing for a very long time after you leave office. 🚑

— S. Adriane Kaylor 🌻 (@AdrianeKaylor) September 1, 2017
Donald Trump however deleted the tweet and posted it again but with the correct spelling of 'healing'.
Texas is healing fast thanks to all of the great men & women who have been working so hard. But still so much to do. Will be back tomorrow!

— Donald J. Trump (@realDonaldTrump) September 1, 2017