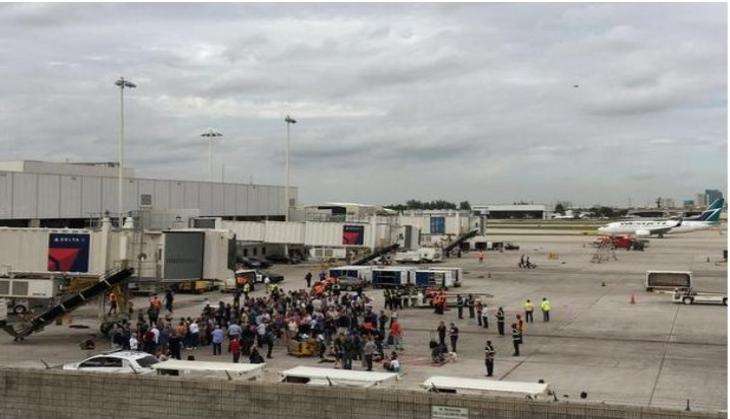 At least five persons have been shot dead and eight others injured when a gunman opened fire at US' Fort Lauderdale-Hollywood International Airport in Florida, the latest mass shooting incident to rock the country.
The 26-year-old suspect, identified as Esteban Santiago, was taken into custody. His motive was not immediately known.
A Iraq war veteran, Santiago was discharged from the Alaska Army National Guard last year due to unsatisfactory performance.
Florida's Broward County Sheriff's office said five people were dead and eight had been taken to a nearby hospital.
The shooting took place yesterday in Terminal 2 in the baggage claim area, outside the TSA checkpoint, police said.
Air Canada and Delta Airlines operate out of Terminal 2.
People were corralled onto the tarmac and paramedics were at the scene, police said. All services at the airport have been temporarily suspended, the airport tweeted.
"The President (Barack Obama), on behalf of the American people, extended his sincere condolences to the families and other loved ones of those killed and noted that his thoughts and prayers are with the wounded," said Ned Price, Spokesman of National Security Council, the White House.
Federal authorities will continue to assist the ongoing investigation into this horrific shooting, Price said.
Earlier, Obama spoke by phone with Florida Governor Rick Scott and Broward County Mayor Barbara Sharief following the tragic loss of life in the incident.
"Monitoring the terrible situation in Florida. Just spoke to Governor Scott. Thoughts and prayers for all. Stay safe!," US President-elect Donald Trump said in a tweet.
Hundreds of people were standing on the tarmac as dozens of police cars and ambulances rushed to the scene.
Police received a call just before 1300 local time (2330 IST yesterday) about shots fired at Terminal Drive.
Former White House Press Secretary Ari Fleischer said in a tweet, "I'm at the Ft. Lauderdale Airport. Shots have been fired. Everyone is running."
A Miami TV station tweeted footage claiming to be from inside the baggage terminal. The video shows several injured people lying on the floor as witnesses shout for medical help.
Broward County Mayor Barbara Sharief told CNN that the shooter acted alone and there is no evidence of a partner.
"At this time we do not have a motive, but we are actively investigating that," she said.
Florida Governor Rick Scott wrote on social media, "I am on my way to Fort Lauderdale International Airport to be briefed by law enforcement."
"The shooter was very skinny. He seemed to be very young... He was just letting himself be dragged by the police. It was scary," an eyewitness said.
More than 325 departure and 325 arrival flights come in and out of the Fort Lauderdale-Hollywood International Airport in a day, according to the airport's website. Over 73,000 travellers are at the airport on a daily basis.
--PTI