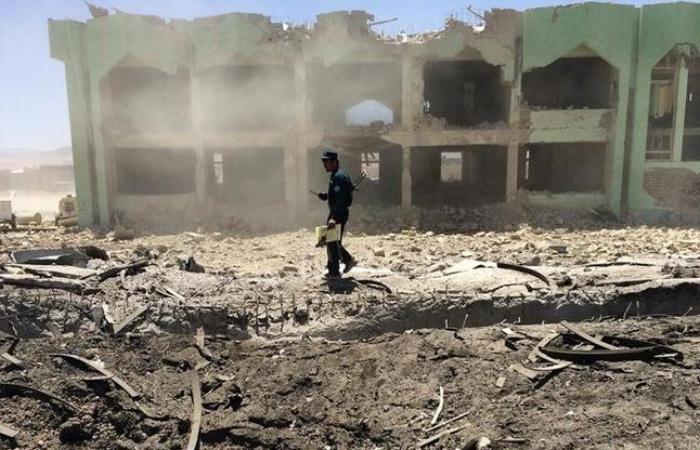 A UN report has recorded 11,002 civilian casualties in 2015 in Afghanistan - a four per cent increase from 2014.
The figures have seen an increase in women casualties by 37 per cent and that of child casualties by 14 per cent.
Nearly 17 per cent increase in casualties caused by the pro-government forces.
The year 2015 saw a record number of civilian casualties in Afghanistan, the United Nations Assistance Mission in Afghanistan (UNAMA) reported.
In a statement released on 14 February, the UNAMA chief informed that they had documented a total 11,002 civilian deaths during conflict in 2015.
The report produced in coordination with UN Human Rights Office has noted a significant increase in conflict in the country which accounts for the spike in casualties.
With 3,545 civilian deaths and 7,457 injured, 2015 saw a significant four percent increase since 2014, and the highest level of total civilian casualties recorded in a single year by UNAMA.
Women and children casualties
"It was around 10 in the morning and I was playing with my two-year-old daughter when a mortar landed in my home and exploded. I was in shock," an Afghan survivor is quoted in the report. "A small piece of shrapnel hit my daughter on her back and my wife was severely injured - two pieces of shrapnel hit her right leg while she was in the kitchen cooking," he narrated, referring to a crossfire between Afghan security forces and Taliban in Jawzjan province, on May 11, 2015. A young boy was killed in that incident, and 11 others were injured including two girls and a boy.
Several such stories find their place in the report. There was an increase in the number of women casualties by 37 per cent and that of child casualties by 14 per cent, the report stated.
"Unprecedented numbers of children were needlessly killed and injured last year - one in four casualties in 2015 was a child," Danielle Bell, director of the UN human rights program in Afghanistan stated.
"Other children suffered the loss of parents, and increasingly their mothers, sisters, and female role models - one in 10 casualties was a woman".
Killed by pro-government forces
While 62 per cent of the casualties were caused by insurgent groups, about 1,854 civilian casualties, nearly 17 per cent, was a result of force used by the pro-government forces.
About 14 per cent were caused by Afghan security forces; two per cent by the international military forces such as the Kunduz hospital bombing and one per cent from pro-government armed groups, the report said.
A sensitive Taliban?
The report also noted a 10 per cent decrease in casualties resulted by Taliban ground operations, which was credited to their increased concern for civilian lives.
"The decrease in civilian casualties from incidents publicly claimed by Taliban does not necessarily mean that civilian deaths and injuries caused by Taliban have decreased. The statistic reflects the number of attacks causing civilian casualties that were claimed by Taliban," read a report footnote.
However, the Afghan government strongly disputed this fact pointing out that the reason in dipping casualties in this case was a result of civilians leaving areas of conflict. In an official statement, the government said:
"The government's own analysis of data on ground engagement by Taliban, shows that the main reason for this drop was not the group's sudden concern for civilians, as the report implies, but rather the fact that many people living in the area of consistent indiscriminate shelling, attack and harassment by the Taliban were displaced by the conflict".
Rise of Daesh or Taliban
The resurgence of Taliban is only a part of the government's worries, as a new insurgent force in form of Islamic State, also known as Daesh, takes root in Afghanistan.
"In 2015, UNAMA recorded 83 separate incidents carried out by Daesh in Afghanistan, which also include threats, intimidation and harassment," Danielle Bell said.
"Of the 83 incidents, 82 took place in Nangarhar mostly in Kot, Achin and Spinghar area in southern Nangarhar resulting in 39 deaths, 43 injured and 82 abducted".
Beyond numbers?
The Afghan government has also contested the actual figures, stating that it only covered incidences in high conflict areas in 12 provinces, as opposed to government's own data that records security incidences in 24 provinces.
"Because these incidences were not included in the UNAMA's report, it does not represent the whole picture," the government stated.
As that may be, around 92,000 people have been killed and 100,000 injured in the Afghanistan war since 2001, a study by Brown University pointed out. More than 26,000 of those killed were civilians.
"This is happening with almost complete impunity," an outraged Zeid Ra'ad Al Hussein, UN High Commissioner for Human Rights, stated. "The perpetrators of the violations must be held to account," he urged.
As numbers mount, addressing safety of civilians during conflict should be an urgent concern for not just the Afghan government, but also falls upon international forces in the country to ensure a drop in such figures.
While ongoing efforts of peace talks raise hopes for political stability, sluggish progress only contributes to maintaining the trends in this report.
Nicholas Haysom, UN Secretary-General's Special Representative for Afghanistan urged that the parties work to reduce civilian casualty figures.
"I have no doubt that a peace agreement would lead to a reduction in civilian casualties. But until we have a peace agreement, we must call on those parties engaged in the conflict, who have it within their power to reduce the number of civilian casualties, to commit to taking every step that will avoid harm and injury to civilians".