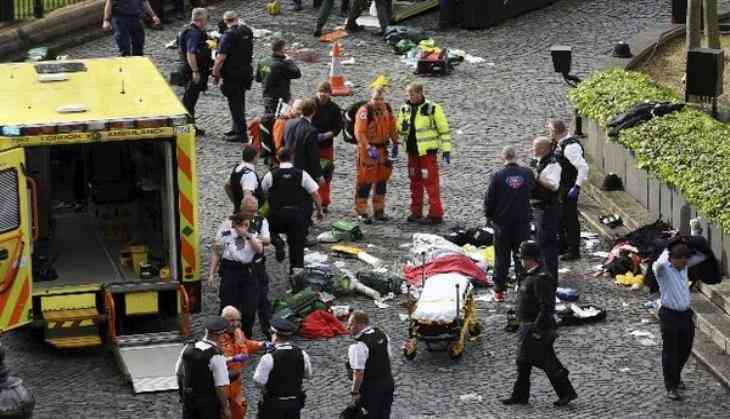 The Met Police have confirmed that five people, including the attacker, died and at least 40 were injured in the major terror attack outside the Houses of Parliament on Wednesday here.
Assistant Deputy Commissioner Mark Rowley named the police officer that has died as Keith Palmer.
He, however, declined to give any details of the attacker, but said he was thought to be inspired by international terrorism.
Rowley confirmed that, besides Palmer, three members of the public were also killed.
"Also, at this stage, but it may change - we believe approximately 40 people were injured, some with serious injuries, including three police officers, two of whom are in a serious condition," The Guardian quoted Rowley as saying.
"We must recognise now that our Muslim communities will feel anxious at this time given the past behaviour of the extreme right wing and we will continue to work with all community leaders in the coming days," he added.
Earlier, the lockdown in the Westminster attack came to an end, after several hours.
Around 1000 people, including Parliament workers as well as MPs, were locked down in Westminster Abbey. They were interviewed by the police to see if they had any information that could help the inquiry.
Rowley had said the police officer, who was stabbed by a lone attacker attempting to enter the House of Commons, had succumbed to his injury. The suspect was also shot and killed, as reported by The Guardian.
Prior to this, at least 20 people, including three officers, were reported hurt when an attacker drove a vehicle into pedestrians on Westminster Bridge, near the Parliament.
One woman was believed to have been thrown over the bridge into the river Thames - and later pulled alive from the water - while another fell on to a hard surface below the bridge.
Speaking to reporters outside the central London hospital, junior doctor Colleen Anderson from St Thomas' hospital said a female pedestrian had also died.
--ANI