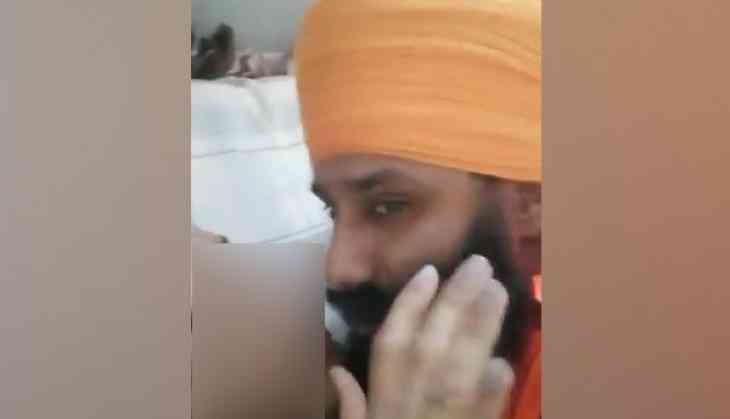 In a video, which is going viral on social media, Harsimranjit Singh Khera, the youth leader of the Sikh Federation UK, is seen snogging a transsexual person.
Khera has been engaged in the 2020 Referendum activities in the United Kingdom and other European countries.
Many believe that the content of the video is in contrast with what the radical leader preaches.
The small amateur video clip has been shared by 'Real SIKH talk' organisation on their Facebook page.
The post accompanying the clip reads, "Harsimranjit Singh Khera - Sikh Federation UK's main youth leader/ activist has been exposed snogging a tranny. There is also another video going around of him having sex with the tranny. This is a man who has had multiple divorces and lecture others on Sikhi and Maryada while worshipping dead saints and welcoming other fake babas to his house and to the UK. He is very well known within Sikh circles in Birhimgham and within Sikh youth UK".
The 'Real SIKH talk' goes on to say, "After this expose he has deleted his Facebook profile and is hiding away, while Sikh organizations like Sikh Federation UK attempt to cover it all up as usual."
The Facebook post of 'Real SIKH talk' says, "Khera, who claims to be a Khalistani and was involved in helping burn an Indian flag in London, regularly travels to India on a visa with his actual name and that too on Air India wouldn't be surprised if he reports to the Indian state, Sikh federation know this but turn a blind eye".
The shocking video of Harsimranjit Singh Khera, several Sikh leaders believe, has exposed his false claims of gaining independence on Sikhs' principles and beliefs.
"The growing sexually perverted twisted individuals in the community need to be exposed and targeted before anyone else", read the post by Real SIKH Talk.
-ANI