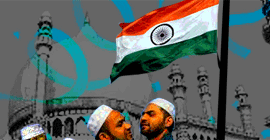 To check the radicalisation of its citizens as the Islamic State grows stronger, the United Arab Emirates has asked India to send Indian imams to the country to train their preachers in moderate Islam, reports The Telegraph.
The UAE's own clerics have long been influenced by Saudi Arabia's Wahabi doctrines, but the Gulf state now wants India's version of Islam to spread. The UAE made this request as the two countries prepared for a visit to Delhi by the Crown Prince of Abu Dhabi, Sheikh Mohamed Bin Zayed Al Nahyan, who also has the title of deputy supreme commander of the armed forces.
"We will need to understand the context of the UAE's request, but there is a lot the world can learn from the Indian interpretation of Islam," said Jamiat Ulema-e-Hind chief, Mahmood Madani. The JUH is India's largest organisation of Islamic clerics. "Our interpretation of Islam is very different from theirs, with a focus against hate and with humanitarian values."
The UAE, like other states in the Gulf, is facing an economic downturn after the fall in crude oil prices. Since survival now depends on Dubai and Abu Dhabi becoming global financial hubs, the Gulf state must be seen to be veering away from the radical Wahabi doctrine that it previously supported.
India, home of the world's second-largest Muslim community, has so far has managed to prevent radicalisation on a large scale. Both the Barelvi and Deobandi schools of Islam, which together have more than 90 per cent of Indian Sunnis as followers, have condemned the strict Wahabi school of Islamic thought.
After the ISIS terror attacks Paris last November, the JUH marched in protest against the IS in several Indian cities. "There is nothing our Islam has in common with Wahabi thought," Zafarul Islam of the All India Majlis-e-Mushawarat had said then.
The crown prince of Abu Dhabi arrived in India yesterday and will meet Prime Minister Narendra Modi today. On the agenda is a discussion on "the steps that India has taken to make sure that our youth don't get radicalised as well as the de-radicalisation of those who come back," said Anil Wadhwa, secretary (east) in the foreign ministry. "This region is very important from a strategic and security perspective for India," Wadhwa said. "Counter-terrorism will form an important part of our discussions."