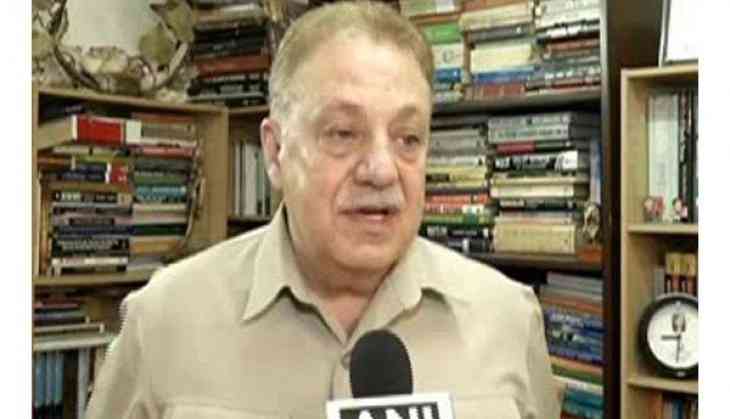 U.S. military strike on Syria a threat to world peace, security: Senior Syrian journalist (ANI)
A senior Syrian journalist has said U.S. military strikes in Syria in response to Tuesday's chemical weapon attack are a clear indication that world peace and security is under threat.

"Definitely, there is a threat because here a seasonal politician who has become the president of United States is heading a country that is economically down falling, and their only method of gaining back their own economy revival is by occupying nations in the world and destroying their infrastructure, getting their big deal for United States company. So, if that is the policy than we are in danger," Dr. Waiel Awwad told ANI.

Describing the attack as a false flag, Dr. Awwad said the world has seen it in Iraq, in Libya, and now, in Syria and this is a indication that President Donald Trump have succumbed to US administration which has actively supported the terrorist organisations and moderate troubles of the Syrian regime.

"So, it is a unilateral kind of an action. It is an aggression against the country which is a very clear indication that does not have even the mandate of the US Security Council," he said.

Dr. Awwad called on the BRICS grouping to come forward to ensure that no country can act without the collective support of the UN Security Council.

He further said that the attack is an example of the United States' ability to reach anywhere and act on its own.

Dr. Awwad added that Washington has its own policies and the new president has no authority to put his vision above that of the administration.

"Even Obama could not put forward his vision as the U.S. administration did not allow him to work on his own and Trump is following previous presidents and doing what the Pentagon dictates, CIA dictates, the war mongers dictate and beneficiaries of all these kind of attack is the armed industry in the United States," he said.

Asserting that the U.S. supports terrorists like the ISIS, Al Qaeeda in Syria, Awwad said Friday's attack is just an aggression against a country and not fight against terrorism by the U.S.

They (U.S.) wanted to show they are Uni-power in the world. The U.S. has to realize it s a multi- polar world and we have to deal with these issues collectively," he added.

Earlier, Syrian State TV responded to the U.S. military strike by dubbing it as 'American aggression,' albeit without much detail.

"American aggression targets Syrian military targets with a number of missiles," The Guardian reported the State TV as telecasting.

The Pentagon confirmed it had used a hotline for minimising the risk of aerial combat between U.S. and Russian jets in eastern Syria to alert Moscow of the strike against the Syrian Government.

U.S. Secretary of State Rex Tillerson, however, contradicted the information and said Russia was not alerted.

Hours after launching the strike, Trump called on all 'civilised nations' to stop the slaughter and bloodshed in Syria. He also asserted that Assad "choked out the lives of innocent men, women and children."

"Tonight I ordered a targeted military strike on the airfield in Syria from where the chemical attack was launched. It is in this vital national security interest of the United States to prevent and deter the spread and use of deadly chemical weapons. There can be no dispute that Syria used banned chemical weapons, violated its obligations under the Chemical Weapons Convention, and ignored the urging of the UN Security Council," he said.

"Years of previous attempts at changing Assad's behaviour have all failed and failed very dramatically. As a result the refugee crisis continues to deepen and the region continues to destabilise, threatening the United States and its allies. Tonight I call on all civilised nations to join us in seeking to end the slaughter and bloodshed in Syria, and also to end terrorism of all kinds and all types," he added.

On Trump's orders, U.S. warships launched between 50-60 Tomahawk cruise missiles at the Syria Government airbase where the warplanes that carried out the chemical attacks were based, U.S. officials said.

President Trump had famously said that the chemical attack on Syria's Idlib province affected him deeply and transformed his thinking about Assad.

Dozens of people, including at least ten children, were killed and over 200 injured as a result of asphyxiation caused by exposure to an unknown gas on Tuesday.

The death toll is said to be at least 67, according to activist al-Diab, while the U.K.-based Syrian Observatory for Human Rights has reported it to be 58.

The High Negotiations Committee claimed the death toll could be as high as 100 with up to 400 injured.
-ANI