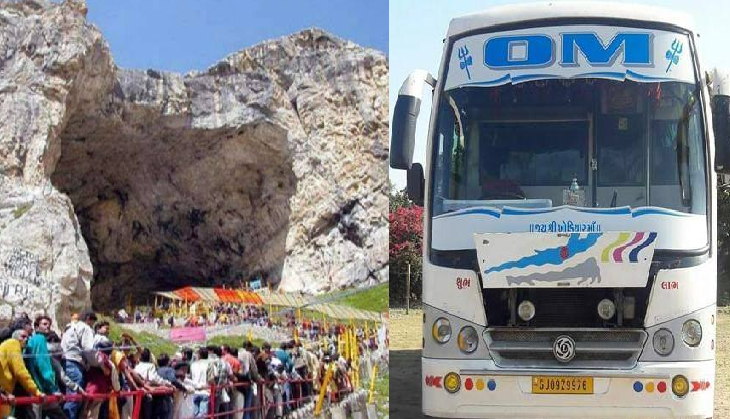 Amarnath Yatra terror attack
The United States has condemned the terror attack targeting a bus of the Amarnath pilgrims in Anantnag district of Jammu and Kashmir in which seven pilgrims lost their lives and 15 others were injured.
"We are aware of the incident of July 10. We consider it to have been a terrorist attack in which seven religious pilgrims were killed. This is of great concern to us. These were civilians. These were killed as they were exercising their Right to worship. And that is in large part what makes it so reprehensible," U.S. State Department said in a statement.
"Our thoughts and prayers go out to those people and to their families as well. Our prayers are with the victims and those who were affected," the statement added.
US @StateDept calls Amarnath Yatra Terror Attack "REPREHENSIBLE". @statedeptspox @POTUS @PMOIndia @SushmaSwaraj @MEAIndia pic.twitter.com/f6s8GuLyb4

— India in USA (@IndianEmbassyUS) July 11, 2017
Meanwhile, several politicians in U.S. also condemned the terror attack.
Congressman, Ted Poe condemned the attack and called it as reprehensible.
Another politician Pete Olson termed the terror attack as deplorable.
"Our hearts go out to the victims of the terrorist attack on #AmarnathYatra. We must stand united against these deplorable acts of terror," Rep. John Culberson tweeted.
"Deeply saddened at the cowardly attack on innocent #AmarnathYatra pilgrims. My thoughts and prayers are with you," Rep. Jim CostaVerified account said in a tweet.
Congresswoman Sheila Jackson Lee called the terrorist attack on Amarnath pilgrims as outrageous, saying that religion is a fundamental right and human right.
France also condemned the attack and conveyed its condolences to the families of the victims and wished a speedy recovery to the injured.
"France assures the people and authorities of India of its solidarity in face of terrorism. During their meeting in Paris on 3rd June this year, the President of the French Republic and the Prime Minister of India, Shri Narendra Modi, had declared counter-terrorism to be a priority of our strategic partnership," a statement said.
Earlier, Bangladesh Prime Minister Sheikh Hasina on Tuesday wrote to Prime Minister Modi and condemned the dastardly Amarnath terror attack.
According to a tweet by Ministry of External Affairs (MEA) spokesperson Gopal Baglay, Prime Minister Hasina wrote to Prime Minister Modi and condemned the attack and conveyed "condolences of Govt. and people of Bangladesh."
Baglay also informed, through his tweets, that Mauritius and Nepal have also condemned the attack.
He tweeted, "Mauritius strongly condemns the attack on Indian pilgrims returning from Amarnath, says that it stands with India at its moment of grief."
"Nepal PM Sher Bahadur Deuba strongly condemns the attack on innocent pilgrims, expresses deep condolences & sympathies to GOI & Indian pple. (sic)"
Sri Lanka President Maithripala Sirisena also took to Twitter to show solidarity with India.
"I condemn the brutal terrorist attack on innocent pilgrims in Amarnath. Sri Lanka stands in solidarity with India in his hour of grief."
Sri Lankan Prime Minister Ranil Wickremesinghe, in a series of tweets, also criticised the terror incident.
He tweeted, "The attack on pilgrims in Amarnath Yatris is devastating. Our thoughts and prayers are with the families affected and our friends in India. Sri Lanka condemns the attack on peaceful pilgrims - Amarnath Yatris. Thoughts & prayers are with the families and your nation @narendramodi."
Several other allies of India including Russia, Sri Lanka and Germany also criticised the attack.
Pavel Dorokhin, Member of State Duma and Deputy Chairman of India-Russia Inter-Parliamentary Commission said in a statement, "Russia stands united against terrorism and terrorism cannot be justified. We pay condolences to the families of the victims and wish speedy recovery to the injured."
German Ambassador Dr. Martin Ney also issued a statement criticising the attacks and paid condolences to the families of the deceased and injured.
He said, "On behalf of the Government of Germany, I strongly condemn yesterday's terrorist attack in Jammu & Kashmir. Seven Amarnath Yatris lost their lives and more than a dozen were wounded. I convey our deepest condolences to the families of the victims. Germany resolutely stands by India in the fight against terrorism and extremism."
Bhutan Foreign Minister Lyonpo Damcho Dorji said, "Bhutan strongly condemns the terrorist attacks on Amarnath Yatris."
Meanwhile, mortal remains of Amarnath Yatra pilgrims, who lost their lives, were brought to Surat, Gujarat.
Seven people lost their lives and 15 others were injured yesterday when a group of terrorists attacked a bus in Jammu and Kashmir's Anantnag.
The incident occurred at around 8.20 p.m. on Monday between Baltal and Mir Bazar. Reportedly, the bus was neither a part of a convoy nor registered with the shrine board.
The 90th and 40th battalions of the Central Reserve Police Force (CRPF) have been deployed at the spot to prevent further untoward incidents.
-ANI