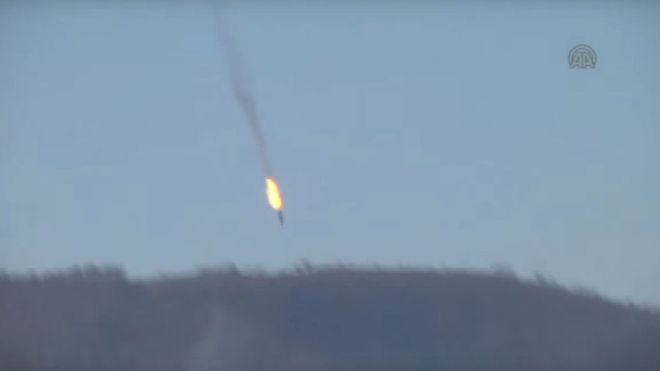 Turkey has shot down a war plane of unknown origin on Tuesday after it violated Turkish air space near the Syrian border and ignored warnings, a Turkish military official said.
According to BBC News, Russia's Interfax news agency cited the Russian defence ministry as saying that a Su-24 had crashed in northern Syria, and that its two pilots had ejected. Turkish military officials said Turkish F-16s had shot down the plane after repeatedly warning its pilots that they were violating Turkish airspace.
Russia's defence ministry claims the SU-24 that crashed was fired at "from the ground". But Turkey says its fighter jets shot it down.

- Steve Rosenberg (@BBCSteveR) November 24, 2015
Russia has launched an air campaign to bolster Syrian President Bashar al-Assad's government in late September.
If Turkey has indeed shot down a Russian fighter jet, the Middle East has just heated up. https://t.co/IJ23BnfQB8

- Nicholas Kristof (@NickKristof) November 24, 2015
Turkish Prime Minister Ahmet Davutoglu said he spoke to the chief of military staff and the foreign minister about developments on the border, The Guardian reported.
Footage from Turkish private broadcaster Habertrk TV showed a crashed jet in flames.
The big upcoming test of Russian-Turkish relations is the fate of the Russian pilot captured by Turkey-aligned Syrian rebels.

- The Int'l Spectator (@intlspectator) November 24, 2015
Turkish military official says fighter jets destroyed plane after it violated the country's airspace.
-With ANI inputs