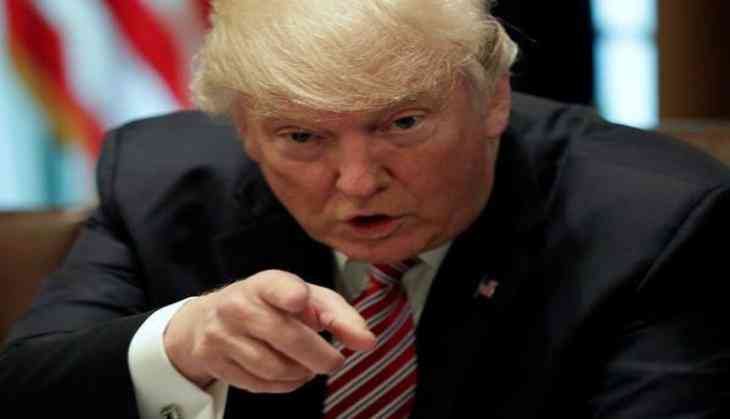 U.S. President Donald Trump on Friday said that his government's patience with North Korea "is over" and called upon regional powers to join Washington into implementing further sanctions on Pyongyang.
"The era of strategic patience with the North Korean regime has failed. And frankly, that patience is over," he said during a joint address with visiting South Korean President Moon Jae-in.
Trump said that the US is facing "the threat of the reckless and brutal regime in North Korea," adding the North Korean regime "has no regard for the safety and security of its people or its neighbors."
He added, "We are working closely with South Korea, Japan as well as partners around the world on a range diplomatic, security and economic measures to protect our allies and our own citizens from this menace know as North Korea. The United States calls on all regional powers and responsible nations to join us in implementing sanctions and demanding that the North Korean Regime choose a better path."
The President said that U.S' goal is peace, stability and prosperity for the region but it will always defend itself.
Trump also thanked Moon for expressing his condolences over the death of American student Otto Warmbier, who died after more than a year of imprisonment in North Korea.
The South Korean President's visit comes amid alarm over North Korea's nuclear and ballistic missile programs.
North Korea has been conducting missile tests even after Donald Trump took office in January and on June 23 Defiant Pyongyang conducted another rocket engine test that can be used for an intercontinental ballistic missile or ICBM capable enough of reaching the U.S. mainland.
Meanwhile, the Treasury Department on Thursday announced sanctions against China's Bank of Dandong, which the Trump administration has claimed acts as a pipeline to support alleged illicit North Korean financial activity.
The Treasury also slapped sanctions on two Chinese individuals and one Chinese company.
Washington has repeatedly urged China to exert more economic and diplomatic pressure on North Korea.
-ANI