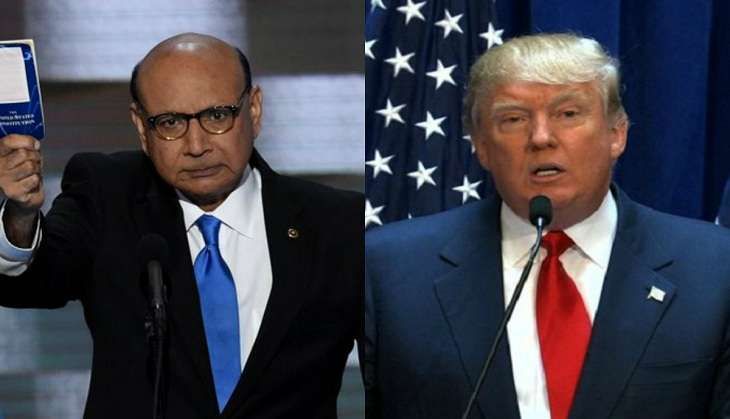 Khizr Khan, father of fallen Muslim veteran Capt Humayun SM Khan, has referred to Republican presidential nominee Donald Trump as someone with a "black soul" and lacking empathy.
On 28 July, Khizr Khan took the stage at the Democratic National Convention to deliver an emotional speech. He endorsed Democratic nominee Hillary Clinton while recounting his son's passing in Iraq in 2004.
He slammed Trump's proposal to put a ban on Muslims.
In response, Trump asked if Khan's wife Ghazala was allowed to speak on stage as a Muslim woman. He also asked if Khan's speech had been penned by Hillary Clinton's "script writers". Trump added that like late Capt Humayun Khan, he had made many sacrifices by creating "tens of thousands of jobs."
"If you look at his wife, she was standing there. She had nothing to say. She probably, maybe she wasn't allowed to have anything to say. You tell me," Trump had said in an interview with ABC News. "She was extremely quiet, and it looked like she had nothing to say."
"He lacks awareness of these issues. He doesn't realise there are patriotic Muslim Americans in this country willing to lay their lives for this country. We are a testament to that", Khan told Washington Post in response to Trump's remarks.
On Sunday, Trump took to Twitter defending his statements, insisting that his comments were in view of the war against terrorism.
Captain Khan, killed 12 years ago, was a hero, but this is about RADICAL ISLAMIC TERROR and the weakness of our "leaders" to eradicate it!

— Donald J. Trump (@realDonaldTrump) July 31, 2016
I was viciously attacked by Mr. Khan at the Democratic Convention. Am I not allowed to respond? Hillary voted for the Iraq war, not me!

— Donald J. Trump (@realDonaldTrump) July 31, 2016
On her part, Ghazala penned an editorial in The Washington Post, saying "Donald Trump said he has made a lot of sacrifices. He doesn't know what the word sacrifice means".
"When Donald Trump is talking about Islam, he is ignorant. If he studied the real Islam and Koran, all the ideas he gets from terrorists would change, because terrorism is a different religion." she wrote.
On 31 July, GOP vice-presidential nominee Mike Pence tried to play down the row.
"Donald Trump and I believe that Captain Humayun Khan is an American hero and his family, like all Gold Star families, should be cherished by every American. "Captain Khan gave his life to defend our country in the global war on terror," he said in a statement.