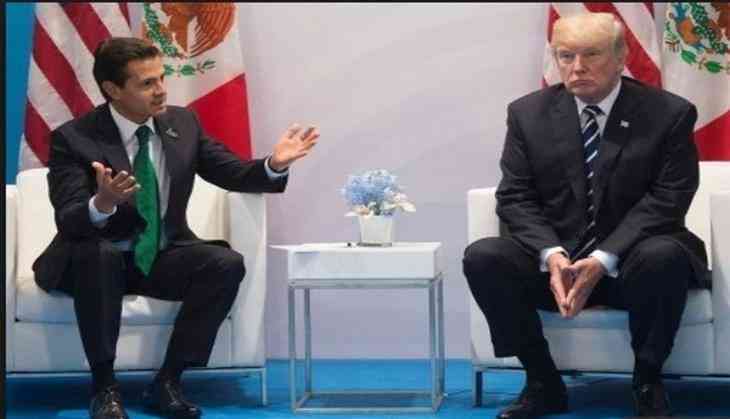 In a startling revelation made on the specifications of the proposed border wall between USA and Mexico, United States President Donald Trump said the wall should be made 'transparent' for safety reasons.
"You have to be able to see through it," Trump said, adding that border agents need to know what or who is on the other side of the fence to avoid being "hit by sacks of drugs and other contraband".
"As horrible as it sounds, when they throw the large sacks of drugs over, and if you have people on the other side of the wall, you don't see them. They hit you on the head with 60 pounds (27 kg) of stuff? It's over," The Guardian quoted Trump as saying.
Additionally, Trump, on his way to Paris, also notified reporters aboard Air Force One that a 2,000 mile stretch is not necessary, proposing that a see-through wall be built, 'anywhere from 700 to 900 miles.'
The existing stretch spanning across approximately 650 miles is fenced, and follows the see-through pattern.
The government issued two notices this year for border wall proposals. The first called for a solid structure of up to 30 ft (9.14 meters) high that couldn't be easily breached. The second bid notice called for other types of walls, including something that could be seen through, reports the Guardian.
Recently, in a meeting held between Trump and his Mexican counterpart Enrique Peña Nieto on the sidelines of the G20 meeting in Hamburg, the former re-iterated that Mexico would 'absolutely' finance the building of the border wall.
The meeting, which was the first between the two leaders since Trump assumed charge of Presidency, was seen as a depiction of insensitivity, while Peña Nieto's silence drew flak from Mexicans.
Putting up a wall along the US-Mexico border was part of Trump's campaign agendas, following which he issued an executive order in January for the beginning of construction.
Earlier, Trump had assured that the cost of building the 'wall' on the southern border with Mexico will come down when he gets involved with its design and negotiations.
He had also expressed his confidence that Mexico will 'eventually' pay for the border wall.
Trump had said in January that he will seek to pay for the wall by imposing a 20 percent tax on imports from Mexico and as part of a larger comprehensive tax reform plan.
-ANI