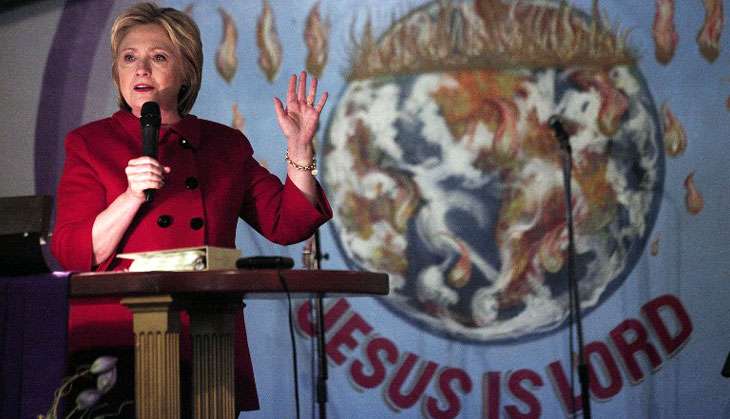 Democratic presidential nominee Hillary Clinton, on 27 October, said that Donald Trump is the "poster boy" for everything that is wrong with the America economy.
Her comments came on a day when the Republican nominee took a break from campaigning to promote his new hotel in Washington, which he boasted was "below budget" and "ahead of schedule" -- without offering specific figures.
"We've actually learned in this campaign that Donald Trump is the poster boy for everything wrong with our economy," Clinton told her cheering supporters at Tampa in the battleground state of Florida yesterday.
"He refuses to pay workers and contractors from Atlantic City to Miami to Las Vegas. He stiffs small businesses. And I've met so many people who did projects for Donald Trump, and then weren't paid."
"Today, in opening that hotel, I think it's important to note that he once again relied on undocumented workers, the same people he has been insulting and demonising throughout this campaign," she said.
Clinton alleged that many of the products in the hotel were made overseas rather than in the United States, and said Trump even sued the District of Columbia to pay lower taxes. "That is the way that he does business."
Americans do not want that kind of experience in the Oval Office, she said.
Clinton also lashed out at Trump's remarks on the US military, saying his contribution to it was nil.
"He actually has a gall to call our military a disaster."
"Not only is he wrong, but what right does he have to say that? He hasn't contributed a penny to our military. Not a penny to our veterans. Not a penny to healthcare or education. Not a penny to highways or infrastructure. This is false charge that he makes about all the problems in our country," she said.
Trump, she alleged, has been "denigrating" America for decades.
"This didn't start with his birther lie against President Obama, it didn't even start running against me. Back in 1987, he took out a USD 100,000 ad in the New York Times, criticising President Regan. He said our leaders were the laughing stock of the world. So, this is a guy who criticises everybody but himself," she said.
--PTI