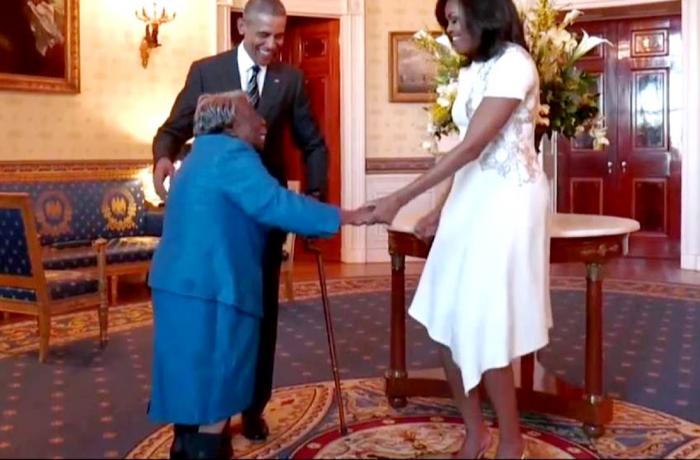 At 106-years of age, Virginia McLaurin has lived through 18 US presidents, but none like Barack Obama.
McLaurin, an African-American woman, had waited all her life to see an African-American as President. So, when she finally got a chance to meet Obama and his wife Michelle at the White House, the bubbly centenarian could not contain her excitement.
In a video posted by the White House last night, the spunky senior citizen - who was visiting the White House as part of Black History Month - can be seeing waving her cane in the air out of sheer excitement. McLaurin can be seen opening her arms wide and greeting POTUS with an excited "Hi!" before she begins to sway. "It's an honour, it's an honour," she tells the 54-year-old US President.
Watch the video here:
Obama, who will leave office in January 2017 after two consecutive terms, can be seen asking if McLaurin wants to meet the First Lady. As she rushes over, Obama, who appears amused, says, "Slow down now. Don't go too quick." Michelle expresses disbelief when informed that McLaurin is 106.
"I want to be like you when I grow up," she tells her. "You can," McLaurin tells the 52-year-old First Lady.
McLaurin was 104 when she was honoured for volunteering for 40 hours a week with students with severe mental and physical disabilities. Back then, in 2013, she had said that she had only one wish to fulfill - to meet President Obama.
In 2014, McLaurin began a social media campaign to meet the Obamas. She filmed a YouTube video in which she said, "I didn't think I'd ever live to see a coloured president. I am so happy. I pray for you every day of my life."
The YouTube video was accompanied by a White House petition and a Facebook page. "I thought I would never live to get in the White House," McLaurin tells the Obamas. "And I tell you, I am so happy."
McLaurin, who was born in South Carolina in 1909, has become quite the internet sensation with her video.
-- PTI