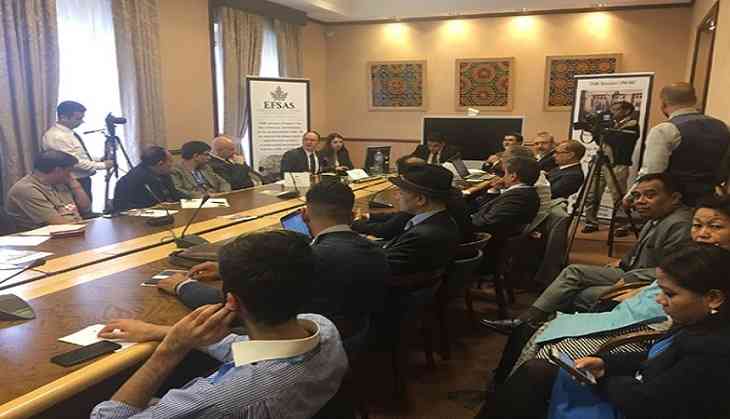 The experts at the United Nations underlined the involvement and link between the British Sunni Muslims and the Pakistani-armed Islamic groups that are responsible for spreading terrorism from South Asia to Britain and beyond Europe, while also adding that the terrorist threats targetting the U.K. have roots in the Swat Valley (Khyber Pakhtunkhwa Province of Pakistan).
"The British Islam is historically bound up with Islam in Pakistan, which has also meant that problems or issues in Islamabad have at times become problems and issues in the U.K. When the international terrorist groups gained influence in Pakistan, they were successful in directing attention towards Britain and Europe," Dr. Paul Stott, from the University of Leicester, the Centre for International Studies and Diplomacy at the SOAS London and an expert on Jihadism of South Asian-origin in Britain and mainland Europe, said.
The experts also discussed the link between South Asia and global terrorism at the event organised by the European Foundation for South Asian Studies (EFSAS), a policy research institution based in Amsterdam, held side-event on "Terrorism in South Asia" during the 36th Session of the UN Human Rights Council in Geneva. They also talked about the complexities of terrorism in South Asia, Indo-Pak relations and Jammu and Kashmir conflict.
Dr. Stott argued that "historically, the terrorist threats targetting the U.K. have originated in the Swat Valley (Khyber Pakhtunkhwa Province of Pakistan) than in Damascus and that the strength of the Pakistani diaspora within the British Islam will keep ensuring that there is a ready welcome for visiting speakers from Pakistan to Britain, who advocate discrimination and violence. He also remarked that Britain cannot look to represent organisations within British Islam to take the lead on addressing support among British-Pakistanis for terrorist groups in Pakistan or individuals like Mumtaz Qadri."
Dr. Stott used the term "British Jihadism" to refer to the "involvement of a highly significant number of the British Sunni Muslims with the Pakistani origin in armed Islamic groups since the early 1990s in Bosnia, Jammu and Kashmir and in Afghanistan."
"Britain's focus on terrorism should not disregard the challenges imposed by the relations between London and Islamabad," Dr. Scott said.
Prof. Rob McCusker, the Head of Division for Community and Criminal Justice at De Montfort University in Leicester, said, "In the Afghanistan-Pakistan region (AFPAK region), there exists a nexus between terrorism and organised crime that flourishes in failed states which are governed by warlords, militias and other violent non-state and state actors. It is widely believed that Pakistan has provided safe haven to terrorist groups like the Quetta Shura Taliban (QST), Haqqani network and Lashkar-e-Taiba (LeT)."
Prof. McCusker added that the Haqqani Network still operates along the AFPAK border and that the "Taliban maintains an annual surplus of between $110 and $130 million while it supressed cultivation of poppy in Afghanistan to manipulate the international market price.
-ANI