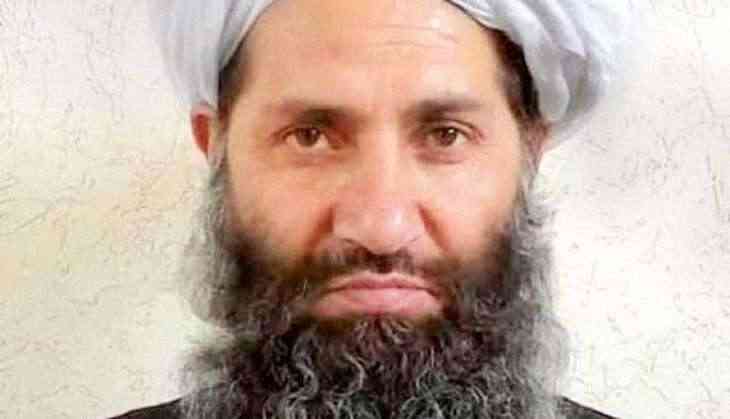 Taliban chief Mullah Hebatullah Akhundzada,
The Afghan government officials has dismissed the claims by the Taliban that the elder son of group's chief Mullah Hebatullah Akhundzada has died while carrying out a suicide attack in Greshk district of Helmand province.
The Afghan officials have termed Taliban claims as baseless and part of their propaganda saying that the leaders of the Taliban and their families are based in Pakistan and Qatar, having luxurious lives, Khaama Press reported.
A spokesman for the Taliban Qari Yousuf Ahmadi earlier claimed that Abdur Rahman, 23, also known as Hafiz Khalid, died driving a vehicle laden with explosives into an Afghan military base in the town of Gereshk of Helmand province, considering their efforts in the fight for the religion and not for the power.
"They lied, it is part of their propaganda, Taliban's families and leaders are having luxuries life in Pakistan and Qatar," the head of the Government Media and Information Center Sediq Sediqi said in a Twitter post, reacting to the claims of the Taliban group.
Abdur Rahman, the son of the Taliban chief was one of the three suicide bombers who died earlier this week when Taliban fighters launched coordinated attacks on the Afghan forces, Taliban has claimed.
According to the provincial governor's spokesperson Omar Zwak, between Thursday and Friday, 67 Taliban members were killed and another 80 injured in clashes in the area, where Afghan troops have regained control of three important areas of the district.
Last year, Mullah Haibatullah became the leader of the Taliban, succeeding Mullah Mansur who was killed in a US airstrike in May 2016.
The Afghanistan government has long been accusing Pakistan for providing sanctuaries to terrorists particularly the Haqqani terrorist network.
-ANI