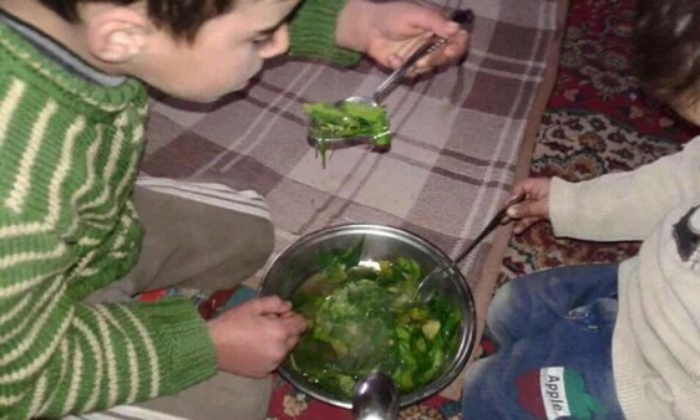 - Videos and photos of malnourished children eating leaves and water have gone viral on social media- President Bashar al-Assad\'s army has blocked all roads in an out of Madaya depriving locals the access to food, water and other resources- Social media posts sparked global outrage forcing the Syrian government into action to allow delivery of aid to Madaya
Madaya, a small mountainous town in Syria that lies near the border with Lebanon, was once a popular holiday destination that attracted several thousand tourists every year. However, that was five years ago, before the start of the conflict in Syria that would eventually go on to claim nearly 2,00,000 lives.
One look at the photos and videos emerging from this town today makes it hard to imagine that it was once a flourishing society to its largely middle-class population. The war-ravaged town of Madaya has not received food supplies since October 2015. As a result, its dwindling population of 40,000 citizens are starving to death.
Videos that recently surfaced on the internet show the insides of what used to be a holiday resort, but now serves as a makeshift mortuary for the many hundreds who died from lack of food and water. Heartbreaking photos of malnourished children who are surviving on leaves and water have gone viral on the internet.
Tweet:
#Syria: Syrian children in the besieged and starving town of #Madaya enjoy a nice meal of leaves. Yes! leaves!! pic.twitter.com/vqIf1Y6JAn

- Thomas van Linge (@arabthomness) January 4, 2016
What little resources remain, are appallingly expensive. For instance, a kilogram of rice costs nearly $250, reports suggest.
Some posts on Facebook even went so far as to claim that the citizens of Madaya were slaughtering domestic animals for food. "There are no more cats or dogs alive in the town. Even tree leaves that we have been eating have become scarce," a resident of Madaya shared with Al Jazeera.
Soldiers of Syrian President Bashar al-Assad have blocked all roads in an out of Madaya, a town located less than 15 miles from Syrian capital of Damascus, depriving locals the access to food, water, and other resources, while simultaneously preventing them from leaving the town as well.
The winter is particularly savage, with no access to electric supply or resources to protect them against dropping temperatures.Doctors working in Madaya inform that two to three people are dying every day in the city. "The death toll is striking mostly the elderly, the women and children," a doctor told SKY News.
Tweet:
Just got sent this video from a Dr who says he filmed this today in his clinic in the besieged town of #Madaya Syria pic.twitter.com/yxTvSS9A4E

- Sophie McNeill (@Sophiemcneill) January 6, 2016
The viral social media posts have sparked global outrage forcing the Syrian government into action, allowing aid delivery to Madaya, as well as two other towns of Fua and Kefraya that are going through similar issues. However, it hasn't been confirmed when or how much aid will be allowed through.