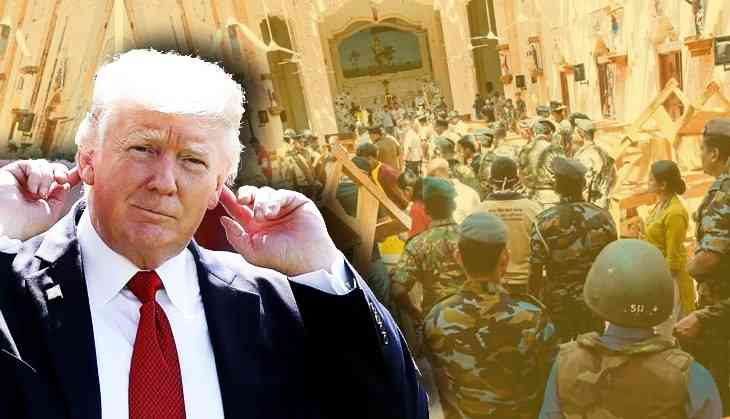 US President Donald Trump once again become the victim of trollers for his recent tweet about Sri Lanka serial blasts.
He has been trolled for his erroneously tweeted about the death toll in serial blasts in Sri Lanka in which hundreds were killed.
To extend his condolences and Trump tweeted, "Heartfelt condolences from the people of the United States to the people of Sri Lanka on the horrible terrorist attacks on churches and hotels that have killed at least 138 million people and badly injured 600 more. We stand ready to help."

He accidentally tweeted a 138 million death rate instead of 138. However, he later deleted his tweet.
Unfortunately, the screenshot of his tweet started circulating on social media. Because of which the netizens trolled him brutally like never before.
Trump tweet comes after the frightful attack in Sri Lanka church and hotels on Sunday which left several injured and 290 deaths.
Over these casualties, US President Trump mistweeted the number of a death rate.
Later, he corrected his tweet.
Check out the tweet:
138 people have been killed in Sri Lanka, with more that 600 badly injured, in a terrorist attack on churches and hotels. The United States offers heartfelt condolences to the great people of Sri Lanka. We stand ready to help!

— Donald J. Trump (@realDonaldTrump) April 21, 2019
As the screenshot was already in the hands of the netizens therefore, no one could save him and he gets trolled so badly.
Check out what Twitterati said:
It hurts when people are as dumb as you. Actually look at the facts rather than just saying crap you hear from cnn. Millions of water bottles were sat on the airstrip in Puerto Rico cause their president wanted to make it trumps fault.

— Josh johnson (@JoshJohnson200) April 21, 2019
The stupid ass finally caught his error.

— Jeffrey Guterman (@JeffreyGuterman) April 21, 2019
Lets not pretend you care about people. You can't even help our own in Puerto Rico or Flint.

— StanceGrounded (@_SJPeace_) April 21, 2019
You mean this. pic.twitter.com/y7Q6fG9SbT

— André Borgeld (@Borgy_1978) April 21, 2019
If we talk about the entirety of it is more like 270 million people who have been killed since the founding of islam.

Could be more but deffinetely not less.

Still a very confused tweet of Trump though.

— DesastersonofLuigi (@missing_clue) April 22, 2019
Yea our country only has 22 MILLION ppl.... I'm from SL

— PurpleArmy💜 (@xxpurplexarmyxx) April 21, 2019
As per the record, Sri Lanka's estimated population is around 21.4 million, according to the 2017 records.
Also read: Sri Lanka Blasts: Death toll rises to 290, bomb defused near Colombo airport