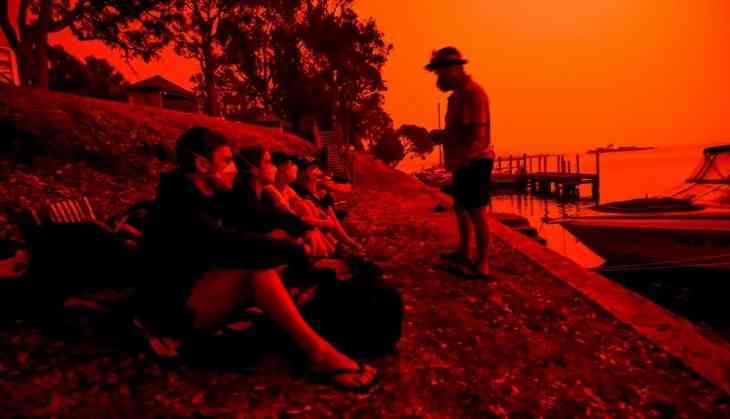 Skies changed into blood red colour over regions of southeast Australia on Sunday as locals attempted to find place of safety from catastrophic bushfire, and a senior fire marshal described the last 24 hours as "one of our worst days ever."
Images of Pambula, in the state of New South Wales, set forth an unearthly, smoke filled landscape, with unpeopled streets lit up with blazing red sky.
Around 30 km south, blood red skies appeared above the town of Eden. There, several locals were searching for refuge on the beach on police instruction, one of the resident told CNN. Several homes have been razed to the ground in the area, and officials stated that they dreaded there would be deaths.
A total of 146 fires are blazing across the state, with 65 uncontrolled, as specified by NSW Rural Fire Service. As many as 2,700 fire marshals were taking on the fire on Sunday.
"Conditions have eased today and firefighters have gained the upper hand on several dangerous fires. There are no total fire bans in place for Monday," the NSWRFS posted on Twitter.
Previously, NSWRFS Commissioner Shane Fitzsimmons told a press conference that Saturday was "one of our worst days ever on record."
A considerable amount of properties were lost across New South Wales on Saturday, Fitzsimmons stated, further adding that a 47-year-old man had perished from heart attack while trying to quell a fire threatening his friend's house in Batlow. The man is the 24th person to lose his life.
Meanwhile, four fire marshal in New South Wales were hospitalized because of breathing in smoke, heat exhaustion and hand burns.
Fitzsimmons stated that state of affairs could become more worse in the coming days."Today will be a relief -- psychological relief but not what we need," he said.
Australia's carrier Qantas called off all flights to and from the country's capital, Canberra, on Sunday because of smoke and high-risk weather conditions.
An airline traveller observed huge clouds brought about by the fires over NSW during a flight from Sydney to Melbourne on Sunday. They are cumulonimbus flammagenitus clouds--fire sparked off thunderstorm—which form when hot air rises from the ground based fire, as maintained by CNN meteorologist. The air cools and liquefies as it moves up, causing a cloud to shape.
"This process is similar to the development of a thunderstorm," said CNN Weather's Derek Van Dam. "As such, a downdraft forms within the base of the pyrocumulonimbus cloud, allowing for embers to be picked up and carried to form new fires."
Also Read: Australia bushfire: PM Scott Morrison announces 2 bn dollars for relief support
Also Read: Australia bushfire: Spine-chilling image of charred baby kangaroo shows disturbing reality of the crisis