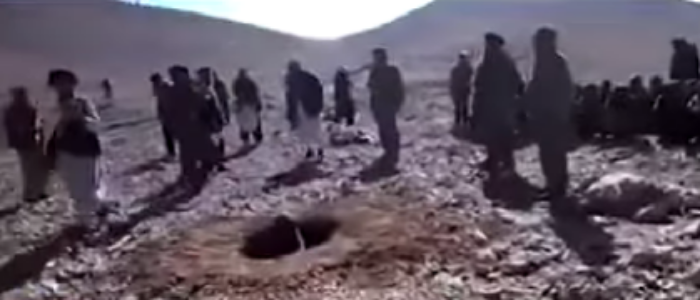 A young Afghan woman who was married against her will has been stoned to death after she eloped with another man, officials said today.
The attack was recorded in a graphic video released on YouTube channel Adriana Afghan.
The video of the stoning shows a woman in a hole in the ground as men almost casually hurl stones at her with sickening thuds, local officials told AFP.
The woman, named by officials as Rokhsahana and aged between 19 and 21, can be heard repeating the shahada, or Muslim profession of faith, her voice growing increasingly high-pitched in the nearly 30-second clip run in Afghan media.
Local authorities confirmed the footage, which is playing on Afghan media and is going viral on Facebook. "Yes, the footage shown in the media is related to Rokhsahana, who was stoned to death," a spokesman for the provincial governor told AFP.
The killing took place about a week ago in Ghalmeen, an area some 40 kilometres (25 miles) from the Ghor provincial capital of Firozkoh, governor Seema Joyenda said.
Rokhsahana had been "stoned to death by Taliban, local religious leaders and irresponsible armed warlords," Joyenda told AFP.
Joyenda, one of Afghanistan's only two female governors, said that according to authorities' information Rokhsahana's family had "married her to someone against her will and she was eloping with a man her age".
She condemned the stoning, calling on Kabul to take action to "clean the area".
"This is the first incident in this area but will not be the last. Women in general have problems all over the country, but especially in Ghor... The man with whom she was eloping has not been stoned."
Ghor police chief Mustafa Mohseni told AFP that the incident happened in a Taliban-controlled area, confirming that it was the first such incident "this year".
Shariah law decrees stoning as the punishment for men and women convicted of having sex outside marriage, but the penalty is very rarely applied in Muslim countries.
It was relatively common in Afghanistan during the Taliban rule from 1996-2001, however.
Another Farkhunda?
Earlier this year, an Afghan woman named Farkhunda was brutally lynched by a mob in the capital city of Kabul after she was accused of burning the Quran.
Farkhunda, 28, was beaten, hit by bats, stamped on, driven over, and her body dragged by a car before being set on fire.
A policeman who had witnessed the incident had told AP news agency that Farkhunda was arguing with a local mullah. Her father said she had complained about women being encouraged to waste money on the amulets peddled by the mullahs at the shrine.
The savage incident had sparked international outrage in March and protests were held in Kabul to condemn the incident.
If you wish to watch the video, here is the link (Warning: Graphic content, viewer discretion advised)
- With agency inputs